NEWS RELEASES
MAZDA MX-30 e-SKYACTIV R-EV Mass Production Launched
-Promoting Initiatives to Reduce Environmental Impact
Across the Production Process to Achieve Carbon Neutral-
HIROSHIMA, Japan - Mazda Motor Corporation announced that, on June 22, the company started mass production of the European model of the MAZDA MX-30 e-SKYACTIV R-EV at Ujina Plant No. 1 in Hiroshima City. This is Mazda's first mass-production rotary engine vehicle in 11 years since the Mazda RX-8 was discontinued in June 2012. Mazda has cumulatively produced over 1.99 million rotary engine vehicles.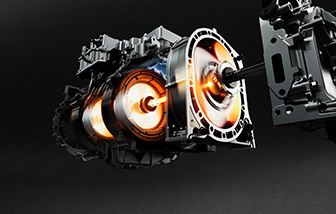 The MX-30 e-SKYACTIVE R-EV is a unique plug-in hybrid model. It has an 85 km battery electric driving range*1 sufficient for a wide range of everyday driving needs with the rotary engine generating additional power to extend the driving distance. On top of this, the entire driving range is motor-powered.
Introduced in 2020, the MX-30 is Mazda's first mass-production battery electric vehicle, adding both a mild hybrid model and new plug-in hybrid model to Mazda's product lineup. The MX-30 embodies Mazda's multi-solution approach to achieving carbon neutrality. Environmentally-conscious materials were intentionally adopted in the design process, applying cork and fabrics made from recycled materials in ways that bring out their natural appeal and create a comfortable interior. Mazda keeps striving to reduce our environmental footprint throughout the production process.
Mazda will continue to take steady steps toward the greater challenge of making our entire supply chain carbon neutral by 2050 in our endeavor to help create a future where we can coexist with our beautiful planet in harmony.
■ Initiatives for reducing Mazda's environmental impact in the MX-30 production process
1) Multi-tone painting — Energy-saving initiatives
Along the dedicated paint line applying multi-tone paint*2, a distinctive feature of the MX-30 design, Mazda has introduced a spray gun that precisely sprays those areas where colors need to be applied separately. This painting technology reduces paint loss with precise millimeter-by-millimeter control of the distance between the spray paint gun nozzle and the body surface. Additionally, for the drying process, we have adopted newly developed paints that harden at a low temperature of approximately 80°C instead of having to be heated to 140°C to dry. This series of steps has significantly reduced energy use compared to the multi-tone paint painting process on an ordinary line, and successfully reduced CO2 emissions by approximately 34%~37% using an annual conversion.
At Mazda's production sites around the world, we have advanced efforts to reduce CO2 emissions and volatile organic compounds, both of which involve trade-offs, with introduction of the Three-Layer Wet Paint System in 2002 and Aqua-Tech Paint System in 2009 for the painting process, a production component that has a particularly high environmental impact. Furthermore, the MX-30 multi-tone paint line applies Aqua-Tech Paint System technology to reduce impact on the environment, and achieves a high-quality paint finish accentuating the strength and beauty of KODO: Soul of Motion design form.
2) Solar power system — Renewable energy adoption initiatives
The solar power system at Mazda's Hiroshima Plant, which went operational in July 2021, outputs 1.1 MW. The power generated charges MX-30 EV models, which are produced at the plant, the newly-mass produced e-SKYACTIV R-EV for shipment, and even supplies electricity used throughout the entire plant.
*1: Electric-only driving range: The European WLTP test cycle value when EV mode is selected as the drive mode. This value is based on specific test conditions and actual electric-only driving range will vary depending on actual driving conditions. Additionally, in situations such as if the driver needs to accelerate suddenly and purposefully depresses the accelerator pedal significantly beyond a certain point (equivalent to the kickdown switch function on a standard automatic transmission vehicle), the power generation system will activate and generate the energy for the required output.
*2: Two-tone and three-tone body color.