NEWS RELEASES
Mazda Taking Orders for All-New Mazda CX-5 in Japan
- An SUV to please drivers and their passengers too -
HIROSHIMA, Japan-Mazda Motor Corporation began accepting orders for the all-new Mazda CX-5 crossover SUV today at Mazda dealerships throughout Japan. Sales are scheduled to begin on Feb. 2, 2017 and the company aims to sell 2,400 units per month domestically.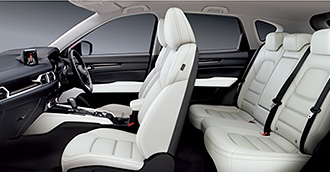 Mazda CX-5 XD L Package (Japanese specification)
The original CX-5 crossover SUV kicked off Mazda's new-generation lineup when it was launched in 2012. Sales have increased every year since, and the CX-5 has grown into a core model for the brand, accounting for a quarter of global sales. Now the CX-5 becomes the first model in the new-generation lineup to undergo a major redesign. Under the slogan "an SUV all customers will enjoy," Mazda refined every element of its design and technology to bring a new dimension of driving pleasure to the all-new CX-5 - one both drivers and passengers will appreciate.

Working under a theme of "refined toughness," Mazda designers challenged themselves to elevate the KODO-Soul of Motion design concept to a new level. The exterior is both bold and sensual, and enhancements to the interior have been made with passenger comfort in mind. A new color available for the first time on the all-new CX-5, Soul Red Crystal was created specifically to highlight the beauty and quality of Mazda's KODO designs.

Featuring G-Vectoring Control, the first in the SKYACTIV-VEHICLE DYNAMICS*1 series of vehicle motion control technologies, the model offers drivers responsive performance and passengers a quiet and comfortable ride. Big advances in safety and the human machine interface include the adoption of Mazda Radar Cruise Control with Stop & Go. This feature, available in a Mazda model in Japan for the first time, works up to 100 km/h and can bring the vehicle to a complete stop.

"Our goal in redesigning the CX-5 was to break through the traditional trade-off between driving pleasure and passenger comfort," said Masamichi Kogai, Mazda's Representative Director, President and CEO. "And to achieve it we have further honed every aspect of the model. Mazda will continue advancing its lineup to offer all customers the joy of driving, aiming to create an emotional connection with customers and become their 'one-and-only' brand."
All-new Mazda CX-5 Overview
Honed design conveys sophistication and toughness
The design team adopted "refined toughness" as their theme and crafted the interior and exterior design around three key terms: mature physique, elegant form, and fine fit and finish.
Exterior design
The exterior design is rugged with an element of seduction. A single expression of motion runs from front to rear, conveying a sense of speed and the car's physique emphasizes its stance and look of forward momentum. The deceptively simple form is crafted for exquisite reflections and design details feature a chiseled look throughout.
A simple trapezoidal form and increasing both the front and rear track width by 10 mm over the previous model emphasizes a powerful stance. A more prominent signature wing underscores the grille and extends below the headlights, expressing breadth and power.
Mazda's brand symbol stands out from a grille that adopts a detailed three-dimensional pattern, expressing depth and a sporty character.
The new Soul Red Crystal takes the emotional and energetic vibrancy of Soul Red to a new level, combining clear depths with lustrous highlights. Eight body colors are available, including Machine Gray.
Interior design
The cockpit wraps around the driver with controls and meters laid out symmetrically. Air-conditioning louvers are positioned in line with the decorative trim that runs across the dash and extends into the door trim. All of these elements flow horizontally from the center of the steering wheel, creating a space with a dynamic sense of breadth that encourages the driver to focus on the road.
The decorative panel uses a newly developed film that combines twelve printed layers and a final coat to create a fresh expression of depth that cannot be achieved with wood or metal.*2
Mounting side demisters and tweeters*3 within the A pillars helps realize a clean design.
With the seats, thick cushioning and the three-dimensional form of the bolsters and shoulder areas express toughness and stability befitting an SUV. Great care was taken in fabrication and stitching to realize a high-quality fit and finish.
Customers can select from three available interior packages: pure white or black leather and black fabric.*4 Different colors above and below the dash emphasize a sense of unity with the car and the roominess of the interior.

Packaging designed for the comfort of all passengers
Cabin comfort and functionality makes every drives a delight for passengers as well as the driver.

A quiet cabin
At any given speed, noise levels in the cabin of the all-new CX-5 are equivalent to those at about 20 km/h slower in the previous model. Low frequency road noise, especially on course road surfaces, is reduced with parts designed to minimize vibrations and detailed measures to control vibrations that do occur. Wind and tire noise at high speeds is reduced by minimizing turbulence around the body and blocking the infiltration of high-frequency tire noise into the cabin.
New seats reduce fatigue and make driving more fun
The front seats adopt suspension mats that disperse pressure evenly and the rigidity of different parts of the seatback has been optimized for maximum support, enhancing comfort and peace of mind. High-damping urethane foam in the seat cushion transmits necessary vibrations for feedback but cuts those that cause discomfort.
The rear seat recline angle has been increased 2 degrees over the original model and they adopt a two-step reclining mechanism for the first time.
Practicality and ease of use
The 505-liter (DIN, with subtrunk) cargo area can accommodate three large 72cm suitcases or four golf bags, even when the rear seats are in use.
The power liftgate*5 can be opened and closed with switches near the driver's seat, on the key fob and on the liftgate itself. It uses a simple, lightweight and compact spindle damper unit which can be set to open the gate to any height. Touch sensors on both sides of the liftgate reduce the chances of hands and items getting caught in the gate as it closes.

Driving performance offers a deeper experience of Jinba-Ittai
In an effort to offer driving pleasure everybody in the car can enjoy, refinements to powertrains, handling, ride comfort, and NVH combine to achieve lively and pleasant performance as well as passenger comfort.
Powertrain
The SKYACTIV-D 2.2-liter clean diesel engine now offers smoother and quieter performance, thanks to High-Precision DE Boost Control, which provides more direct acceleration response, Natural Sound Smoother, which reduces diesel knock sound and Natural Sound Frequency Control, which suppresses knock sound at the source.
The pistons in the SKYACTIV-G 2.5-liter gasoline engine now features asymmetrical oil rings that optimize the thickness of the oil film on the cylinder wall, reducing mechanical friction and contributing to improved real-world fuel economy performance.
The SKYACTIV-G 2.0-liter gasoline engine combines a 13.0:1 compression ratio, cavity pistons and a 4-2-1 exhaust system to realize outstanding efficiency and powerful torque in the low- to mid-range.
The SKYACTIV-DRIVE automatic transmission adopts a new shift control scheme that monitors factors such as vehicle speed, throttle position and engine rpms to understand the driver's intentions, reduce unnecessary shifting out of corners and realize smoother vehicle behavior.
G-Vectoring Control, the first technology in the SKYACTIV-VEHICLE DYNAMICS series, is standard equipment across model grades. This vehicle motion control technology adjusts torque in response to steering input, providing integrated control of lateral and longitudinal acceleration forces to realize smooth and efficient behavior.
SKYACTIV-CHASSIS
In addition to a column-mounted electric power steering system, the new CX-5 adopts rigid steering mounts that enhance response and steering rigidity.
The suspension system employees MacPherson struts in the front and multi-link suspension in the rear.
Ventilated and solid disc brakes are used in the front and rear respectively.
SKYACTIV-BODY
Light and strong ultra-high-tensile steel is used in several new locations, including the A pillars and side-sills, and the latest CAE analysis was used to identify effective reinforcement points. Torsional rigidity is improved 15.5 percent over previous model, reducing flex that would other slow response to steering inputs.
Driving position
The all-new CX-5 features an organ-style accelerator pedal and enables an optimized driving position in line with all recent Mazda models. The steering wheel faces the driver squarely and pedals are positioned where the driver naturally extends his or her legs.
The shift lever is positioned 60 mm higher than in the previous model, improving operability and making it easier to move a hand between it and the steering wheel.

Advances in safety and the Human Machine Interface (HMI)
Advances in both active and passive safety and the enhanced legibility of the HMI support the driver's enjoyment and peace of mind in any driving environment.
Advances in the HMI
An Active Driving Display that projects information on the windscreen is available in a Mazda in the Japanese market for the first time.
The new seven-inch center display, which suppresses reflections and presents a clearer image, is now mounted atop the dashboard.
Improving the layout of various indicators and the adoption of a 4.6-inch color LCD multi-display*6 makes it easier to read meters at a glance.
Advances in safety
Mazda Radar Cruise Control (MRCC) is now capable of following the vehicle in front from a standing stop to speeds up to 100 km/h. (Previous minimum operation speed was 30 km/h)
Adaptive LED Headlights now use a monocular unit divided into 12 LED blocks.
Advanced Smart City Brake Support (Advanced SCBS) can now detect pedestrians in addition to vehicles and other obstacles, and Traffic Sign Recognition (TSR) detects speed limit, no entry and stop signs and displays them in the Active Driving Display.
Manufacturer's suggested retail price for the all-new Mazda CX-5
(*model shown above)
Grade
Drive
Engine
Transmission
MSRP
(JPY: including tax)
JC08 test cycle fuel economy*7
With
17-inch tire
With
19-inch tire
20S
FWD
SKYACTIV-G
2.0
SKYACTIV-DRIVE
(6-speed EC-AT)
2,462,400
16.0km/L
20S
PROACTIVE
2,689,200
16.0 km/L
25S
AWD
SKYACTIV-G
2.5
2,689,200
14.6 km/L
25S
PROACTIVE
2,916,000
14.6 km/L
25S
L Package
FWD
SKYACTIV-G
2.5
2,986,200
14.8 km/L
AWD
3,213,000
14.6 km/L
XD
FWD
SKYACTIV-D
2.2
2,775,600
18.0 km/L
AWD
3,002,400
17.6 km/L
17.2 km/L
XD
PROACTIVE
FWD
3,002,400
18.0 km/L
AWD
3,229,200
17.6 km/L
17.2 km/L
XD
L Package*
FWD
3,299,400
18.0 km/L
AWD
3,526,200
17.2 km/L
- Prices shown above do not include insurance fees and the taxes. Separate recycling fee of 12,860 yen is necessary at the purchase of the model.
- The price is 75,600 yen higher (tax included) for Soul Red Crystal Metallic.
- The price is 54,000 yen higher (tax included) for Machine Gray Metallic.
- The price is 32,400 yen higher (tax included) for Snow Flake White Pearl Mica.
- The XD, the XD PROACTIVE and the XD L Package are eligible for Japan's Clean Energy Vehicle subsidy.
*1 A series of new-generation vehicle motion control technologies that provide integrated control of the engine, transmission, chassis and body to enhance the car's Jinba-ittai driving performance.
*2 Standard in the 25S L Package and XD L Package.
*3 Available in the 20S PROACTIVE, 25S PROACTIVE, 25S L Package, XD PROACTIVE, XD L Package when equipped with the Bose Sound System manufacturer-installed set option (86,400 yen tax included).
*4 Leather upholstery is standard in the 25S L Package and XD L Package. Fabric is standard in the 20S, 20S PROACTIVE, 25S, 25S PROACTIVE, XD and XD PROACTIVE.
*5 Standard on 25S L Package and XD L Package. Available as a manufacturer-installed set option on the XD PROACTIVE (54,000 yen tax included).
*6 Standard in the 20S PROACTIVE, 25S PROACTIVE, 25S L Package, XD PROACTIVE and XD L Package.
*7 Figures reviewed by Japan's Ministry of Land, Infrastructure, Transport and Tourism. Fuel economy figures are measured under fixed conditions. In practice, fuel economy may vary due to weather, traffic conditions, driving style, HVAC usage and other factors.