NEWS RELEASES
Mazda to Increase Engine Production Capacity at Powertrain Plant in Thailand
- New engine machining factory to be added also -
HIROSHIMA, Japan—Mazda Motor Corporation announced today that it will increase the annual production capacity of the engine assembly plant at Mazda Powertrain Manufacturing (Thailand) Co., Ltd. (MPMT) in Chomburi, Thailand, to 100,000 units in the first half of 2018. The company also announced a plan to construct a new engine machining factory with production capacity similar to that of the engine assembly plant.
The annual production capacity of MPMT's engine assembly plant, which began full-scale production in October 2015, is 30,000 units. The plant produces SKYACTIV-D 1.5-liter clean diesel engines and SKYACTIV-G 1.3-liter gasoline engines, which are shipped to Auto Alliance (Thailand) Co., Ltd. for use in the Mazda2 (known as Mazda Demio in Japan).
Mazda is investing 22.1 billion yen to increase the engine assembly plant's annual production capacity to 100,000 units. The company will also construct a new engine machining plant to enhance its system for comprehensive production in Thailand that includes vehicle bodies, engines and transmissions. The SKYACTIV-G 2.0 will be added to the engines produced, and the export of engines to vehicle production sites in the ASEAN countries of Malaysia and Vietnam will begin.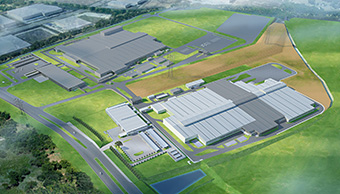 Illustration of MPMT at completion with transmission plant (top left) and engine plant* (bottom right)
"Enhancing Mazda's comprehensive production system in Thailand is a key initiative in our effort to strengthen global production," said Masatoshi Maruyama, Mazda's Managing Executive Officer in charge of Global Production. "By increasing production capacity and starting up the new engine machining factory as scheduled with quality assured, Mazda intends to further develop MPMT as its first overseas hub for engine export, thereby improving our global production efficiency and contributing to the development of Thailand's automotive industry."
Mazda will continue its efforts to enrich people's lives through a variety of touch points, including the production of high-quality cars, and become a brand with which customers feel a strong emotional connection.
* Areas of the engine plant in light gray indicate the planned machining factory.