NEWS RELEASES
Mazda to Debut New CX-4 Crossover SUV at Beijing Motor Show
- Twelve models on display including new-generation Mazda3, CX-5 and Mazda6 -
HIROSHIMA, Japan—Mazda Motor Corporation will debut the all-new Mazda CX-4 crossover SUV at the Beijing Motor Show.*1 The automaker's stand at the show will feature twelve vehicles, including new-generation models such as the Mazda3, Mazda CX-5, Mazda6, and race cars prepared for the Mazda-sponsored MZ Ruisi Racing Team competing in the China Touring Car Championship (CTCC).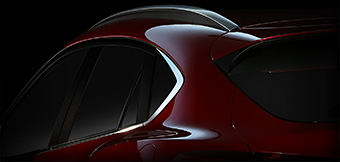 Mazda CX-4 crossover SUV
The CX-4 is the latest addition to Mazda's new-generation lineup of models featuring the full range of SKYACTIV Technology and KODO-Soul of Motion design. With a striking presence that sets it apart from other SUVs, the functionality modern users expect and Jinba-ittai driving thanks to Sustainable Zoom-Zoom, this is new type of crossover SUV designed to help customers live more creative lives.
In addition to the CX-4, Mazda will display other vehicles and technologies that represent the brand. Mazda aims to enrich people's lives through a variety of touch points and become a brand that maintains a special connection with customers.
*1 Also known as 2016 Beijing International Automotive Exhibition. Press days are April 25-26. Special invitation days are April 27-28. Open to the public from April 29 through May 4.
Mazda's main exhibits at the Beijing Motor Show 2016
Reference exhibits
Mazda CX-4 (World premiere)
Mazda3 Axela (CTCC racing specifications)
Mazda6 Atenza (CTCC racing specifications)
Currently available models
Mazda CX-5
Mazda3
Mazda6