NEWS RELEASES
Mazda-designed Bicycle and Sofa Unveiled
- Mazda Design: The Car as Art in Milan showcases concepts of RIN and EN -
MILAN, ITALY—Mazda Motor Corporation has taken the wraps off Mazda-designed artworks, including "Bike by KODO concept" and "Sofa by KODO concept" on the eve of opening the event "Mazda Design: The Car as Art," in the Italian city of Milan from April 14, 2015.
For many years Mazda has maintained a consistent focus on the representation of dynamic motion in its vehicle designs. Under the KODO-Soul of Motion design theme, Mazda's new-generation vehicles express a powerful motion full of life, such as that displayed by animals in the wild.
With Mazda Design: The Car as Art, Mazda is aiming to further the evolution of the expression of motion by attempting the expression of two key sensibilities rooted in Japanese aesthetics; RIN, a sense of self-restrained dignity, and EN, an alluring sensuality that speaks directly to the senses.
"Bike by KODO concept" is a track racer that seeks to express the innate beauty of the bicycle. Its minimalist structure is composed of the least possible number of parts. The frame was painstakingly formed by hammering a single sheet of steel and the black leather saddle is hand-stitched, featuring the same red thread and stitch design as the all-new Mazda MX-5. The bicycle's mixture of dynamism and allure is evocative of the Mazda MX-5's styling.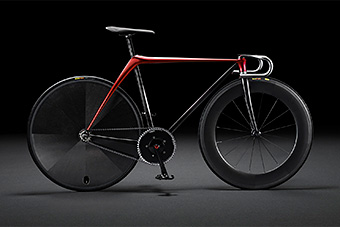 Bike by KODO concept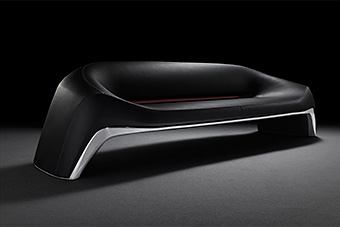 Sofa by KODO concept
"Sofa by KODO concept," a collaborative effort between Mazda's designers and Italian furniture makers, exhibits an exquisite blend of Mazda Design's refined sensibilities and fine Italian craftsmanship backed by a long tradition of furniture-making. The form of the sofa is as honed as that of the all-new Mazda CX-3 and evokes the strong stance common to all Mazda's new-generation vehicles.
Also on display at the event are a number of works by traditional Japanese craftsmen inspired by Mazda's KODO-Soul of Motion design philosophy. KODOKI is a tsuiki copperware wine cooler hammered from a single sheet of copper in Japan's famous Gyokusendo metal-working studio. SHIRAITO is a traditional lacquered box created by Kinjo-Ikkokusai which expresses the richness of natural phenomena using multiple layers of lacquer and finely-broken eggshell.
"Over the past few years, design has become an essential part of who we are, adding an artistic value to the entire Mazda brand experience," said Masahiro Moro, Mazda's Managing Executive Officer, in charge of Global Marketing, Customer Service and Sales Innovation. "As such, it only makes sense that we introduce our design messages here in Milan, a city of the apex of the design world, in order to elevate our brand image. Moving forward, we will create more opportunities to familiarize customers with Mazda and Mazda design in order to raise the value of our brand and strengthen our bond with customers."