NEWS RELEASES
Mazda's Mexico Plant Produces 100,000th Vehicle
HIROSHIMA, Japan—Mazda Motor Corporation has announced that accumulated production at Mazda de Mexico Vehicle Operation* (MMVO) has reached 100,000 units. The milestone figure was achieved 11 months after production began at the company's new plant in Mexico in January this year. The 100,000th car to come off the production line was a Mazda2 (known as Mazda Demio in Japan) bound for Europe.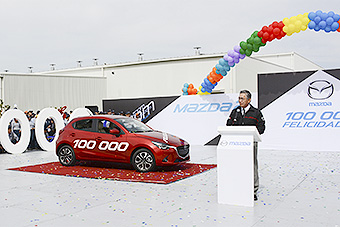 Ceremony to celebrate 100,000 units produced at MMVO
At a commemorative ceremony held on site, MMVO President and CEO Keishi Egawa said, "The production of one hundred thousand vehicles at MMVO is extremely significant, and we could not have done it without the support of our customers, our suppliers, and our employees, as well as that of the federal and local governments. We see this achievement as a milestone on our road towards achieving our mission of making MMVO one of the most important strategic locations in Mazda's global manufacturing footprint. Moving forward, we are committed to continue delivering high quality vehicles to Mazda's fans all around the world."
Mazda aims to continue enriching the lives of its customers with high-quality products and excellent service, and become a brand that maintains a special bond with its customers.
[History of MMVO]
2011
Sep:
Established as a joint venture with Sumitomo Corporation
Oct:
Groundbreaking ceremony marks start of construction
2014
Jan:
Mass production begins
Feb:
Opening ceremony
Oct:
Mass production of all-new Mazda2 (Demio) begins
Operations start at engine machining plant
Announced production capacity increase to 250,000 units annually by fiscal year ending March 2016
* A trade name of Mazda Motor Manufacturing de Mexico, S.A. de C.V. and Mazda Motor Operaciones de Mexico, S.A. de C.V collectively.