NEWS RELEASES
All-new Mazda2 Wins Germany's Golden Steering Wheel Award
HIROSHIMA, Japan—The all-new Mazda2 (known as Mazda Demio in Japan) has won one of Germany's most prestigious automotive awards, the 2014 Golden Steering Wheel in the small cars category.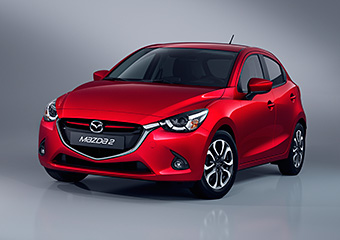 All-new Mazda2 (Mazda Demio)
Established in 1976, the Golden Steering Wheel is an automotive award organized by German Sunday newspaper Bild am Sonntag and automotive magazine Auto Bild. The best new car in each category is determined through a combination of reader voting and evaluations by a panel of judges consisting of automotive journalists and others. The all-new Mazda2 was the only Japanese vehicle to take an award in any category this year.
It is the fourth time a Mazda has won a Golden Steering Wheel award; the Mazda 323 (Mazda Familia in Japan) took the prize in 1985 and 1989, and the Mazda 626 (Anfini MS-6) won in 1992. Mazda's Managing Executive Officer Takahisa Sori, who took part in the award ceremony held in Berlin on November 11 commented, "It's a great honor to receive this outstanding award for the all-new Mazda2 even before it arrives on the European market. It's wonderful to see that the key features that define Mazda vehicles, such as exceptional design, the fun-to-drive factor, and excellent environmental performance, are being recognized in Germany as well."
Following the Mazda CX-5, the Mazda6 (Atenza), and Mazda3 (Axela), the all-new Mazda2 is the fourth in the automaker's line-up of new-generation models adopting the full range of SKYACTIV technology*1 and the KODO-Soul of Motion design theme. It was named the 2014-15 Car of the Year Japan in October 2014.
*1 SKYACTIV is the umbrella term for Mazda's range of next-generation technologies-including gasoline and diesel engines, transmissions, body and chassis - developed under Mazda's Sustainable Zoom-Zoom vision to provide both driving pleasure and outstanding environmental and safety performance.