NEWS RELEASES
All-new Demio Wins Good Design Gold Award 2014 in Japan
HIROSHIMA, Japan—Mazda Motor Corporation has announced that the all-new Demio (known as Mazda2 outside Japan) today received the Good Design Award's Good Design Gold Award (Ministry of Economy, Trade and Industry Minister's Award), sponsored by public interest incorporated foundation, Japan Institute of Design Promotion.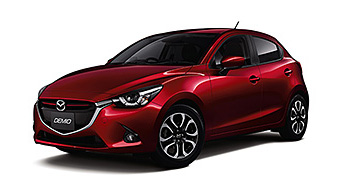 All-new Demio
Following the Mazda CX-5, Mazda6 (Mazda Atenza) and Mazda3 (Mazda Axela), the all-new Mazda2 is the fourth in Mazda's line-up of new-generation products which feature the full range of SKYACTIV technology* and KODO-Soul of Motion design.
Aspiring to create a new-generation subcompact that would shatter people's preconceived notions about this class of vehicle, Mazda packed all the new technology and design ideas that have defined the automaker's new-generation models into the compact body of the Demio. KODO design has been evolved to give the model a sense of life and an undeniable presence that belies the vehicle's compact size. With the interior, Mazda designers aimed to set a new global benchmark for the segment. Every element, from spatial composition and forms, through to color coordination and textures, was drastically transformed to realize a feeling of quality that exceeds the class.
The Japan Institute of Design Promotion said of the Demio, "Mazda has taken all of the KODO design from the last few years and condensed it into this compact body. The tense undulations of the body surfaces remind one of a wild animal in pursuit of prey, and every line expresses a sense of speed. The exterior is so dynamic it is hard to believe this form was achieved on a small city car. Not only does the quality feel of the interior exceed the standards of the class, the natural driving position made possible by moving the front wheels forward means you never feel like you are driving a small car. Along with the SKYACTIV clean diesel engine this model lets you enjoy the most fundamental pleasure of the automobile-moving your own hands and feet to get where you want to go-with all five senses."
Established in 1957, the Good Design Award is Japan's only comprehensive program for the evaluation and commendation of design. In 2014, a total of 1,258 designs were awarded the Good Design Award, among which the highest scoring 100 were named to the Good Design Best 100. The Good Design Gold Award (Ministry of Economy, Trade and Industry Minister's Award) is awarded to the most outstanding designs among the Good Design Best 100.
For more information about the Japan Institute of Design Promotion's Good Design Award:
http://www.g-mark.org/?locale=en
* SKYACTIV Technology is an umbrella term covering Mazda's range of next-generation technologies - including gasoline and diesel engines, transmissions, bodies and chassis - developed under Mazda's Sustainable Zoom-Zoom vision to provide driving pleasure balanced with outstanding environmental and safety performance