NEWS RELEASES
Mazda Completes Exclusive Vehicle Assembly Facility in Malaysia
- Production framework enhanced at key ASEAN production base -
HIROSHIMA, Japan—Mazda Motor Corporation today announced the completion of a Mazda-exclusive vehicle assembly*1 facility within the grounds of a plant owned by Inokom Corporation Sdn. Bhd.*2 (Inokom) and located in Kulim, in the Malaysian state of Kedah. Mass production of the Mazda CX-5 for Malaysia and Thailand started at the facility today.
Mazda began local production of the Mazda3 (Mazda Axela in Japan) on a consignment basis with Inokom in January 2011. Since March 2013, the Mazda CX-5 has been produced at a Mazda-exclusive body shop*3 constructed as one of the measures to reinforce the local production framework. This body shop, and the vehicle assembly facility which began operating today, are the result of an approximately 100 million ringgit (approx. 3 billion yen) investment by Mazda Malaysia*4, a company that oversees the production and sales of Mazda vehicles in Malaysia. Total annual production capacity of both facilities is approximately 20,000 units, and production of the all-new Mazda3 for Malaysia is scheduled to begin within 2014. The Mazda-exclusive body shop and vehicle assembly facility give Mazda more flexibility with the production plan and allows the company to implement enhanced quality control measures.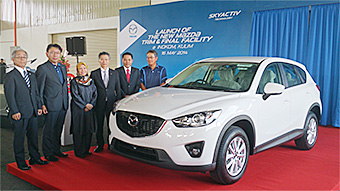 The opening ceremony at the plant
At an opening ceremony held at the new plant today, Mazda's Executive Officer and General Manager of Hiroshima Plant, Masatoshi Maruyama said, "Mazda regards Malaysia as a key production base in the ASEAN region and we are very pleased to further strengthen our local production framework here with the completion of this Mazda-exclusive vehicle assembly facility. Moving forward, in strong partnerships with Bermaz Motor*5 and Inokom, Mazda will continue bringing out unique and high-quality products, full of the joy of driving. Our sincere hope is that both here in Malaysia, and all over the world, these cars will enrich the lives of our customers, and help to build a special bond between them and the Mazda brand."
*1 The process of attaching various components (engine, etc.) to the vehicle body after the stamping, welding and painting processes are completed.
*2 Inokom Corporation Sdn. Bhd. is a local vehicle production company carrying out production for Mazda Malaysia on a consignment basis.
*3 The facility in which press-formed parts are welded together to form the vehicle body.
*4 Mazda Malaysia is a joint venture between Mazda and Bermaz Motor Sdn. Bhd. (Mazda 70%, Bermaz 30%)
*5 Bermaz Motor Sdn. Bhd. is a 100% locally-owned national sales company for Mazda vehicles. Its principal shareholder is Malaysian conglomerate Berjaya Corporation.