NEWS RELEASES
Mazda to Exhibit All-New Mazda3 at Tokyo Motor Show
- Latest model offered as a 'multi-solution' in response to diversifying fuel types -
HIROSHIMA, Japan—Mazda Motor Corporation will showcase the recently-released Mazda Axela (known as Mazda3 overseas) with a variety of engine types at the 2013 Tokyo Motor Show. Mazda's latest models and technologies, such as to the Mazda CX-5 crossover SUV and the flagship Mazda Atenza (Mazda6 overseas), will also be on display. Both models feature SKYACTIV TECHNOLOGY and the KODO—Soul of Motion design theme. The 43rd Tokyo Motor Show opens to the public on November 23 at Tokyo Big Sight.*1 The Mazda Axela goes on sale in Japan on November 21.*2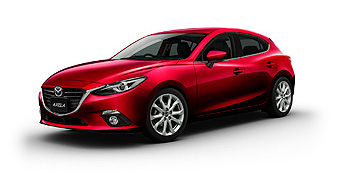 All-new Axela Sport '20S Touring L Package'
The company's theme for this year's Tokyo Motor Show is "Mazda defies convention to keep fun-to-drive alive." The theme expresses the company's desire to introduce people all around the world to the joy of driving that is unique to the Mazda brand. This goal is supported by four pillars; SKYACTIV TECHNOLOGY, opening up new possibilities in both environmental and driving performance; KODO design, which expresses a dynamic and powerful life force; Mazda's safety philosophy Mazda Proactive Safety; and a new-generation car connectivity system called Mazda Connect.*3
The Mazda3 is a core model in the Mazda line-up accounting for more than thirty percent of the company's global sales volume, and it is the third of Mazda's new generation vehicles to be completely redesigned. At the Tokyo Motor Show, the Mazda3 SKYACTIV-CNG Concept, which runs on compressed natural gas (CNG), will be exhibited for the first time alongside gasoline, hybrid, and diesel-engine models. Mazda is proposing the new Axela as a 'multi-solution.' Capable of using a diverse range of energy sources, every model still offers Mazda's trademark fun-to-drive experience. Furthermore, regardless of fuel-type, all models in the Mazda3 line-up feature SKYACTIV engines—a testament to the versatility of SKYACTIV TECHNOLOGY.
The new Mazda stand will also feature technology exhibits explaining Mazda's unique Human Machine Interface (HMI) and car connectivity system. Alongside new-generation models such as the Mazda CX-5 and Mazda6, the displays show Mazda's most recent technologies and hint at the direction of future models.
Lists of exhibits
Reference
exhibits
Mazda Axela Sport SKYACTIV-D 2.2 [2 units]
On sale Jan 2014
Mazda3 SKYACTIV-CNG Concept
World premiere
Special Edition Mazda Demio
On sale Dec 2013
Mazda Atenza ASV-5 (Advanced Safety Vehicle)
Currently
available
models
Mazda Axela Sport (SKYACTIV-G 2.0 & 1.5) [3 units]; Mazda Axela Hybrid (SKYACTIV-HYBRID) [2 units]; Mazda Atenza Sedan and Wagon [2units]; Mazda CX-5 [2 units]; Mazda Premacy (Mazda5); Mazda Biante Granz (special needs vehicle); Mazda Roadster (MX-5); and Mazda Flairwagon Custom micro-mini
Technology
exhibits
Interior model of the all-new Axela, SKYACTIV-HYBRID engine model, SKYACTIV-D 2.2 engine model, etc.
- In addition to the above, Mazda will also participate in the SMART MOBILITY CITY 2013 exhibition organized by the SMART MOBILITY CITY 2013 executive committee and the Japan Automobile Manufacturers Association.
Summary of major exhibits
Mazda Axela
Featuring i-ACTIVSENSE advanced safety technologies and a new car connectivity system called Mazda Connect,*3 the Axela is the most recent Mazda model to be fully redesigned. With the full suite of SKYACTIV technologies and KODO design, the all-new Axela incorporates Mazda's latest technologies and trademark driving pleasure. The company will offer the model with three different powertrain options (gasoline, diesel and hybrid) making it the first Japanese maker to do so in the Japanese market. At the Tokyo Motor Show, with the addition of the CNG concept model, the new Axela is being offered as "multi-solution" to the diverse needs of customers around the world.
SKYACTIV-G 2.0/1.5-liter gasoline engine

The 2.0-liter engine is paired with a 4-2-1 exhaust system which contributes to the combustion efficiency of this high compression engine. Compared to the previous model with a 4-1 exhaust system (FWD Sport with automatic transmission under JC08 test mode) it offers more torque and approximately 9 percent improved fuel economy. The 1.5-liter gasoline engine model offers greatly increased torque and approximately 26 percent improved fuel economy (comparing FWD sedan with automatic transmission under JC08 test mode).

SKYACTIV-HYBRID

The hybrid models pairs an electric motor with a specially-designed 2.0-liter SKYACTIV-G gasoline engine. It realizes both exhilarating driving performance and outstanding fuel economy performance of 30.8 km/L under JC08 test mode.

SKYACTIV-D 2.2-liter diesel engine

The diesel engine model offers torque comparable to a 4.0-liter V8 gasoline engine while meeting Japan's Post-New Long-Term regulations without the need for expensive NOx aftertreatment systems.

Mazda3 SKYACTIV-CNG Concept (reference exhibit)

Demand for CNG-powered vehicles is increasing all over the world and the SKYACTIV-CNG Concept adopts a dual fuel system that runs on both gasoline and CNG. CNG engines must burn fuel at high pressure and because the SKYACTIV-G gasoline engine already achieves a high compression ratio it can easily be modified for CNG with only minor modifications. Vehicles with CNG engines reduce emissions by about 20 percent compared to those with gasoline engines of the same displacement. Mazda proposes the Mazda3 SKYACTIV-CNG Concept as a potential way to offer driving pleasure to even more customers around the world while reducing impact on the environment at the same time.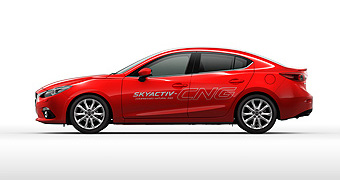 Mazda3 SKYACTIV-CNG Concept (reference display)
Mazda CX-5
This crossover SUV was the first of Mazda's new-generation products incorporating both SKYACTIV TECHNOLOGY and KODO design. With its bold and dynamic design, responsive driving performance, outstanding environmental and safety performance, and packaging that ensures a comfortable and enjoyable ride for all onboard, it is not surprising that the CX-5 is winning awards in markets around the world. In addition to being named Japan Car of the Year 2012-2013, the model was the best-selling SUV in the country in 2012.*4
Mazda Atenza
Sporty and refined in both performance and looks, Mazda's flagship also offers the highest level of safety and environmental performance. From the i-ELOOP brake energy regeneration system to the i-ACTIVSENSE advanced safety technologies, the Atenza offers the very best of Mazda's engineering and craftsmanship.
Mazda Atenza ASV-5
The Atenza ASV-5 is equipped with futuristic safety systems. In a world-first, one of these systems enables automobiles with an in-car autonomous sensor to communicate with streetcars, helping to prevent collisions and support a smooth and safe flow of traffic. Mazda's aim is to support safe and smooth coordination between automobiles and streetcars, in which there is renewed interest as an eco-friendly form of public transportation. Mazda began trials on public roads using ITS*5 in September 2013 and the system was demonstrated at the 20th ITS World Congress Tokyo 2013 held earlier in October.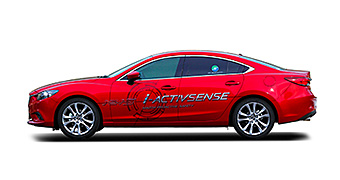 Mazda Atenza ASV-5 (Advanced Safety Vehicle)
Car Connectivity Exhibits
Model interior of All-new Mazda3

A model to allow users to experience the interior space of the all-new Mazda3 which was developed based on the Heads-Up Cockpit concept. It features a 7-inch center display, commander control knob, and active driving display, and allows access the content and services available through Mazda's next-generation car connectivity system, Mazda Connect. Visitors can experience for themselves a driving environment that keeps the driver facing forward and safely concentrating on driving, even while being presented with increasing amounts of information.

Mazda Connect Concept Video (at SMART MOBILITY CITY)

Mazda Connect was designed to take driving pleasure a step further by connecting car and driver on a deeper level. A concept video depicting the world Mazda aims to realize by 2020 through Mazda Connect will be shown in the exclusive theatre featuring a large 180-inch screen.
*1 Press days are November 20 and 21, 2013. Mazda will hold a press conference at 11:15 a.m. on November 20, 2013.
*2 The XD model that features a diesel engine will go on sale in January 2014, and the 20S 2.0-liter gasoline engine model with six-speed manual transmission will go on sale in spring 2014.
*3 The name Mazda Connect is used in Japan, US, Canada and Mexico. The system is referred to as MZD Connect in other markets.
*4 Mazda data (as of January 2013). The Japan Automobile Dealers Association defines the SUV market in Japan to include Japan-made models categorized as "Off-road 4WD" (include some FWD models).
*5 Intelligent Transport Systems (ITS) uses the latest high-tech telecommunications to create an information network encompassing people, roads and vehicles. The objective of this new traffic system is to work toward solutions for transport problems such as road accidents, congestion and damage to the environment.