NEWS RELEASES
Pre-orders Start for All-New Mazda Axela in Japan
- First domestic automaker to offer gasoline, diesel and hybrid versions of a single model in Japan -
HIROSHIMA, Japan—Mazda Motor Corporation today announced that it will begin taking pre-orders for the all-new Mazda Axela sports compact (known overseas as Mazda3) on October 10, 2013 at Mazda, Mazda Anfini and Mazda Autozam dealers throughout Japan.*1 The manufacturer's suggested retail price ranges from 1,711,500 yen to 2,982,000 yen (including taxes). The company expects to sell 3,000 units per month in Japan. Sales will begin on November 21, starting with the gasoline engine and hybrid models.*1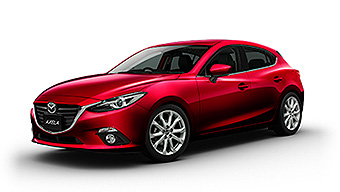 All-new Axela Sport '20S Touring L Package'
The all-new Axela follows the hot-selling Mazda CX-5 and Atenza (known overseas as Mazda6) as the third model to adopt both Mazda's next-generation SKYACTIV TECHNOLOGY*2 and its new KODO - Soul of Motion design theme.
Since the launch of the first generation model in 2003, the Axela has consistently exceeded both customer expectations and industry standards. Responsive handling ensures an exhilarating drive while excellent environmental and safety performance is topped off with an emotive design and complemented by the highest levels of craftsmanship. As a result it has established itself as one of Mazda's core models. With over 3.7 million units sold in over 120 countries around the world, the Axela accounts for more than thirty percent of Mazda's sales volume.*3
In addition to SKYACTIV TECHNOLOGY, the third generation Axela incorporates Mazda's latest technologies, including many of the i-ACTIVSENSE*4 advanced safety technologies featured in the company's flagship Atenza. It is offered in gasoline, diesel and hybrid versions, making Mazda the first Japanese automaker to offer three different powertrain types in a single model in the Japanese market.*5 The needs of the customer are becoming more and more diverse, and Mazda is ready to meet these needs with both outstanding environmental and safety performance, and the company's trademark driving pleasure.
Furthermore, the all-new Axela marks the introduction of Mazda Connect, the company's unique car-connectivity system. In the age of smartphones and tablet computers, people expect to be able to connect to the internet anywhere, anytime. Connected cars make it possible to obtain and disseminate information even while being behind the wheel. This has resulted in a sudden increase in the amount of information presented to the driver and Mazda feels strongly that steps must be taken to counter the increased risk of driver distraction and associated safety risks. Based on Mazda's unique Heads-Up Cockpit concept, Mazda Connect was designed with the highest priority placed on safety. By connecting people with the outside world through their vehicles, Mazda Connect will deliver customers a richer experience of car ownership.
All-new Axela Overview
1. A vibrant design that captivates the onlooker
Exterior design that makes you want to get in and drive
Adopting the same KODO - Soul of Motion design theme as other next-generation models, dynamic motion full of life is expressed in a compact C-segment car.
The signature wing, a defining feature of the Mazda family face, looks as if it was chiseled from solid metal, and has been set low, giving a slightly fierce look.
Two new body colors are introduced; Titanium Flash Mica and Deep Crystal Blue Mica. A total of eight body colors are available, including Soul Red Premium Metallic which was developed specifically to complement KODO design.
Interior design that is focused yet open
The driver's space is concise with a feeling of concentrated focus; the passenger areas realize a spacious, open feel.
A single round meter is aligned with the central axis of the steering wheel and the driver's body inducing a feeling of unity between car and driver.
At a single glance, the futuristic interior and high-contrast design (Piano Black and Satin Chrome, Off-White and Black, etc.) convey a high-quality feel worthy of a class above.
The combination of alluring design and outstanding packaging were achieved not simply by expanding the space of the cabin, but by defining the "absolute values" that really make a space easy to use.
Exclusive items with the XD model grade with SKYACTIV-D 2.2-liter diesel engine
Special features include an exclusive front grille with a red pinstripe pattern on the upper part of the signature wing, a special Piano Black rear bumper, LED fog lamps, reflective aluminum alloy wheels, a smooth leather steering wheel accentuated by red cross-stitching, and exclusive seat upholstery (Lux Suede®*6/leather).
2. Jinba Ittai: Responsive driving deepens the feeling of unity between car and driver with every mile
Optimized driving position supports Jinba Ittai
The steering wheel, pedals and other controls involved in operating the vehicle are positioned so the driver's joints are maintained at a relaxed and natural angle that makes it easy to react quickly and accurately.
Moving the front wheels forward 50mm opens up more space in the driver's footwell. The wheelhouse no longer dictates the position of the accelerator pedal, allowing for optimal positioning of the pedals.
Excellent visibility is attained by positioning the base of the A-pillars 100mm further back than the previous model. The new seat structure enlarges the area that contacts the driver's hips, helping the driver to maintain a correct driving posture.
Natural response and precise feedback
Cornering that feels smooth and natural to everybody in the car is realized by tuning the yaw moment so as not to exceed the driver's estimation when entering a corner.
Acceleration is precisely controlled by both the amount and the speed with which the driver presses the accelerator pedal. The car responds exactly as the driver anticipates giving rise to an accord between the driver's sense and the movements of the car.
The suspension of the XD model grade equipped with SKYACTIV-D 2.2 diesel engine is exclusively tuned for a sportier drive.
Powertrain lineup to meet the increasingly diverse needs of the customer
Lineup includes a new SKYACTIV-G 1.5-liter gasoline engine which greatly enhances torque and improves fuel economy by about 26% (compares AT sedan model under JC08 mode test).
The 4-2-1 exhaust system is introduced to the SKYACTIV-G 2.0-liter gasoline engine. It improves fuel economy by approximately 9% and delivers more torque than the previous model with a 4-1 exhaust system. (Compares AT front-wheel-drive (FWD) Sport model under JC08 mode test.)
SKYACTIV-D 2.2-liter diesel engine delivers powerful torque on par with a 4.0-liter V8 gasoline engine and meets Japan's Post New Long-Term Emission Regulations without expensive NOx aftertreatment systems.
SKYACTIV-HYBRID combines a new SKYACTIV-G 2.0 engine developed exclusively for the hybrid powertrain and an electric motor to deliver both excellent fuel economy (30.8 km per liter under JC08 mode) and Mazda's trademark driving pleasure.
The SKYACTIV-DRIVE six-speed automatic transmission locks up for most of its range except for take-off, and realizes smooth and fast shifting. The SKYACTIV-MT six-speed manual transmission, which enables gear shifts at a flick of the wrist, is available on all SKYACTIV-G and SKYACTIV-D FWD models. The hybrid model features a continuously variable electronic transmission.
Engine
Transmission
Drive
i-stop
i-ELOOP
Body type
Sales start
timing
FWD
4WD
Hatch
back
Sedan
SKYACTIV-G 1.5
MT
○
-
○
-
○
○
November
21, 2013
AT
○
○
○
-
○
○
SKYACTIV-G 2.0
MT
(scheduled)
○
-
○
○
○
-
(Next spring)
AT
○
-
○
○
○
-
November
21, 2013
SKYACTIV-D 2.2
MT
○
-
○
○
○
-
(Scheduled
for January
2014)
AT
○
-
○
○
○
-
SKYACTIV-HYBRID
Electronic
Continuously
Variable
Transmission
○
-
-
-
-
○
November
21, 2013
3. MAZDA CONNECT - A connectivity system that puts top priority on safety
New Human Machine Interface (HMI) based on the Heads-up Cockpit concept
New devices feature simple and easy to use displays and controls, minimizing visual, cognitive and manual distraction and allowing the driver to concentrate on driving.
Commander Control allows no-look control of all infotainment functions.
The standalone 7-inch display is designed for maximum legibility and positioned where it can be viewed by lowering the line of sight a mere 15 degrees.
Some model grades are equipped with an Active Driving Display that shows vehicle speed, turn-by-turn navigation and warnings which require immediate action, where the driver can see them without taking their eyes off the road ahead.
Mazda Connect - Connecting people, cars and the outside world
Connecting to a smartphone allows communication functions such as hands-free telephone and text messaging.
Using the Aha by HARMAN™ web contents platform, the system will read out the latest tweets on Twitter and newsfeed on Facebook. It is also possible to "like" posts and post voice messages.
Aha allows access to over 40,000 radio and information stations around the world.
Other functions include Intelligent Drive Master (i-DM), a fuel consumption monitor, a maintenance function that allows drivers to check when their next oil change is due, and Warning Guidance which explains warnings displayed on the meter in more detail.
Navigation is available simply by installing an SD card available as a dealer option. If equipped, the Active Driving Display shows turn-by-turn driving directions.
A modular hardware structure that will stay up-to-date
The operating system can be updated to support a variety of smartphone and internet services and system upgrades.
4. Excellent environmental performance supports driving pleasure
The latest technologies improve environmental performance even more
The SKYACTIV-G 1.5-liter gasoline engine-powered FWD model and the SKYACTIV-G 2.0-liter gasoline engine-powered model with automatic transmission qualify for a 75% tax reduction under Japan's eco-car tax reduction program to promote environmentally-friendly cars. The SKYACTIV-HYBRID model qualifies for full tax exemption. (Other models are awaiting homologation.)
Models equipped with the SKYACTIV-G 2.0-liter gasoline engine adopt the newly developed Active Air Shutter which closes off an opening in the lower grille when engine cooling is not necessary. This improves aerodynamic performance while contributing to shorter a warm-up time, both of which help to achieve better fuel efficiency in practical use.
Mazda's idling stop system, i-stop, is standard on all SKYACTIV-G models and SKYACTIV-D 2.2-liter diesel engine model. The i-ELOOP brake energy regeneration system which was debuted with the Atenza, comes as standard equipment in SKYACTIV-G 2.0 and SKYACTIV-D models.
5. World-class safety features based on Mazda's safety philosophy
Mazda Proactive Safety
Mazda's safety philosophy is based on respect for the driver and aims to support him or her in recognizing hazards, making the right judgment calls, and operating the vehicle safely throughout a variety of driving conditions. If the unthinkable does happen, technologies are there to help the driver avoid or at least reduce damage and injury. The i-ACTIVSENSE advanced safety technologies in the new Axela were developed based on this philosophy.
Like the Atenza, the all-new Axela features Mazda's advanced safety technologies in all major model grades.
Active safety technologies
Features to help the driver recognize hazards: Distance Recognition Support System (DRSS) and Forward Obstruction Warning (FOW),*7 Lane Departure Warning System (LDWS),*8 Adaptive Front-lighting System (AFS),*9 Rear Vehicle Monitoring (RVM).*10
Pre-crash safety technologies
Features to avoid collisions and reduce damage: Smart Brake Support (SBS),*7 Smart City Brake Support (SCBS) and Acceleration Control for Automatic Transmission.*11
Passive safety technologies
Lightweight, highly rigid SKYACTIV-BODY provides outstanding safety performance.
The cabin is protected from the impact of a frontal collision by thoroughly straightening and adopting an X-shaped cross-sectional form for the frame. To protect against rear end collisions, the rear frame adopts an ideal double-hat structure and X-shaped crush cans.
Four solid ring structures join the roof and B-pillars to the underbody while reinforcements further strengthen the body to minimize the chance of cabin deformation and mitigate injury to the occupants.
Features to support driving
Mazda Radar Cruise Control (MRCC),*7 High-Beam Control System (HBC).*8
In addition, features such as SRS front side and curtain airbags for both driver and passenger seats*12, Hill Launch Assist (HLA), and Emergency Signal System (ESS) are standard equipment on all model grades.
Manufacturer's suggested retail prices
(*model in the above photo)
Axela Sport (5-door hatchback)
Model grade
Drive
Engine
Transmission
Price (Yen)
(including tax)
Tax
reduction*13
15C
FWD
SKYACTIV-G
1.5
SKYACTIV-MT
(6-speed MT)
1,711,500
75% reduction
SKYACTIV-DRIVE
(6-speed EC-AT)
1,711,500
4WD
SKYACTIV-DRIVE
(6-speed EC-AT)
1,921,500
(Awaiting homologation)
15S
FWD
SKYACTIV-G
1.5
SKYACTIV-MT
(6-speed MT)
1,848,000
75% reduction
SKYACTIV-DRIVE
(6-speed EC-AT)
1,848,000
4WD
SKYACTIV-DRIVE
(6-speed EC-AT)
2,058,000
(Awaiting homologation)
20S
FWD
SKYACTIV-G
2.0
SKYACTIV-DRIVE
(6-speed EC-AT)
2,205,000
75% reduction
20S Touring
SKYACTIV-DRIVE
(6-speed EC-AT)
2,310,000
20S Touring
L Package*
SKYACTIV-DRIVE
(6-speed EC-AT)
2,436,000
XD
FWD
SKYACTIV-D
2.2
SKYACTIV-MT
(6-speed MT)
2,982,000
(Awaiting homologation)
SKYACTIV-DRIVE
(6-speed EC-AT)
2,982,000
Axela Sedan (4-door sedan)
Model grade
Drive
Engine
Transmission
Price (Yen)
(including tax)
Tax
reduction*13
15C
FWD
SKYACTIV-G
1.5
SKYACTIV-MT
(6-speed MT)
1,711,500
75% reduction
SKYACTIV-DRIVE
(6-speed EC-AT)
1,711,500
4WD
SKYACTIV-DRIVE
(6-speed EC-AT)
1,921,500
(Awaiting homologation)
15S
FWD
SKYACTIV-G
1.5
SKYACTIV-MT
(6-speed MT)
1,848,000
75% reduction
SKYACTIV-DRIVE
(6-speed EC-AT)
1,848,000
4WD
SKYACTIV-DRIVE
(6-speed EC-AT)
2,058,000
(Awaiting homologation)
Axela Hybrid (4-door sedan)
Model grade
Drive
Engine
Transmission
Price (Yen)
(including tax)
Tax
reduction*13
HYBRID-C
FWD
SKYACTIV-
HYBRID
(SKYACTIV-G 2.0 + motor)
Electronic Continuously Variable Transmission
2,373,000
Exempt from acquisition tax and weight tax
HYBRID-S
Electronic Continuously Variable Transmission
2,499,000
HYBRID-S
L Package*
Electronic Continuously Variable Transmission
2,625,000
- If the special body color Soul Premium Red Metallic is selected, the price increases by 52,500 yen. For Snowflake White Pearl Mica add 31,500 yen (including tax).
- A separate recycling fee of 11,150 yen is necessary in addition to the manufacturer's suggested retail prices listed above.
| | |
| --- | --- |
| *1 | Except SKYACTIV-G 2.0-liter gasoline engine model with manual transmission. This model is due to be released next spring. |
| *2 | SKYACTIV is the umbrella term for Mazda's range of next-generation technologies - including gasoline and diesel engines, transmissions, and a new body and chassis - developed under Mazda's Sustainable Zoom-Zoom vision to provide driving pleasure balanced with outstanding environmental and safety performance. |
| *3 | As of September 1, 2013. Mazda data. |
| *4 | i-ACTIVSENSE is an umbrella term for Mazda's advanced safety technologies that use detecting devices such as millimeter-wave radars and cameras. |
| *5 | As of October 1, 2013. Mazda data. |
| *6 | Lux Suede® is a registered trademark of Seiren Co., Ltd. |
| *7 | Standard equipment for the 20S Touring, 20S Touring L Package and XD model grades. |
| *8 | Standard equipment for the XD model grade. |
| *9 | Standard equipment for 20S, 20S Touring, 20S Touring L Package, XD, HYBRID-S and HYBRID-S L Package. |
| *10 | Standard equipment for 20S Touring, 20S Touring L Package, XD, Hybrid-S, Hybrid-S L Package. Manufacturer-installed set option for 15S model grade. |
| *11 | Standard equipment for 20S, 20S Touring, 20S Touring L Package and XD model grades. Manufacturer-installed set option for the 15S (Only SCBS is available for manual transmission models.) |
| *12 | Not neccesarily eqipped in all specifications of the 15C with automatic transmission. |
| *13 | Under Japan's tax reduction program to promote environmentally-friendly cars. |