NEWS RELEASES
All-new Mazda3 to Offer Next-generation Car Connectivity System 'Mazda Connect'
- Global partnership with Aha™ by HARMAN cloud-based web content platform for vehicles -
HIROSHIMA, Japan—Mazda Motor Corporation today announced that the all-new Mazda3 (Axela in Japan) will feature a next-generation car connectivity system, Mazda Connect*1, when it goes on sale this autumn. The new system will increase the scope of driving pleasure and engender a deeper relationship between car and driver. To enable the driver to enjoy the wide range of content on offer while keeping their attention focused on the road ahead, Mazda has developed a brand new Human Machine Interface (HMI), based on its unique Heads-Up Cockpit concept. As the amount of information presented to drivers behind the wheel increases, the new HMI creates an environment in which the driver is consistently looking at the road ahead and can concentrate on the safe operation of the vehicle.
One of the functions available through Mazda Connect is access to the Aha™ by HARMAN*2 web content platform for automobiles (Aha). Mazda is the first automaker to finalize a global licensing agreement with Aha, allowing customers to access the service in any country in which Aha is available. Aha will be introduced to Japan and a number of other Asian and Central and South American countries to coincide with the launch of the new Mazda3 in those markets. This will make it the first connected car in those markets offering access to Aha. In Japan it will be the first vehicle to offer as standard equipment*3 a device that allows the driver to access internet radio and other services through their smartphone.
| | |
| --- | --- |
| | |
| All-new Mazda Axela | Aha™ by HARMAN |
Ryuichi Umeshita, General Manager of Mazda's Product Division, commented, "Partnering with Aha on a global basis is a big step for Mazda in delivering on its commitment to offer customers all over the world new dimensions of driving pleasure and convenience by safely connecting them to the internet while behind the wheel." David Slump, HARMAN's Executive Vice President and President of Automotive Services, said, "The service we provide to our customers offers consistent display and operation of a huge variety of content. We are very pleased that people are coming to appreciate the safety benefits of this system."
By simply downloading a free smartphone application, Aha provides access to over 40,000 cloud-based audio and information presets*4 such as internet radio, podcasts, audiobooks, Facebook and Twitter feeds and various location-based services*5. All of this content can be accessed through a single, safe and intuitive interface. Aha has regional agreements providing services to more than ten auto brands in over 50 countries, focusing mainly in Europe and North America.
Mazda Connect
A next-generation car connectivity system that enables you to safely enjoy the convenience of your smartphone while in your car.
Enables the use of a variety of website applications and services such as Aha by linking with your smartphone
The in-vehicle software can be updated to support additional functions and evolving smartphone operating systems so that it will never go out-of-date.
A flexible hardware structure featuring a module unit for each function allows the system to meet a wide range of needs flexibly.
Moving forward, the range of applications and services available with the system will be expanded.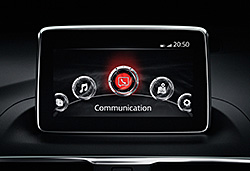 Mazda Connect
Next-Generation HMI
A next-generation HMI developed in line with Mazda's unique Heads-Up Cockpit concept which places the highest priority on safety and helps drivers to maintain a stable driving position and concentrate on driving safely, even while dealing with a variety of information.
The human-centered design aims to minimize visual, cognitive and manual distraction.
The simple cockpit has different zones for different types of information.
7-inch center display (1) sits atop the dashboard making it easy to see without lowering the eyes.
Command controller (2) is designed to be operated entirely by feel.
Active Driving Display (3) projects important information such as vehicle speed and turn-by-turn navigation above the meter hood.
Functions can be controlled voice-recognition.

「Heads-Up Cockpit」
*1 The name Mazda Connect is used in Japan, US, Canada and Mexico. The system is referred to as MZD Connect in other markets
*2 Aha Radio website: http://www.aharadio.com/what-is-aha/in-your-car
*3 As of September 2013, Mazda data. Except the lowest-priced model grade which is chiefly aimed at fleet sales.
*4 Services available through Mazda Connect and Aha vary by country and region.
*5 Location-based services work in cooperation with a navigation system to offer services based on location information.