NEWS RELEASES
Mazda Malaysia to Enhance Local Assembly
- Has begun purchase of Mazda-exclusive body shop and construction of vehicle assembly facility -
HIROSHIMA, Japan—Mazda Motor Corporation today announced that Mazda Malaysia*1, a joint production and sales company in Malaysia, will acquire a body shop from Inokom Corporation Sdn. Bhd.*2(Inokom) to exclusively produce Mazda vehicles It has also begun construction of a vehicle assembly facility. The measures were taken to enhance Mazda Malaysia's local assembly operations.
On the basis that Mazda Malaysia would purchase it, Inokom established the Mazda-exclusive body shop at their plant located in Kulim, in the Malaysian state of Kedah. Operations started in April 2013. Acquiring ownership of the facility will allow Mazda Malaysia to respond to production plan changes and implement quality control measures quickly and flexibly. The purchase process has begun and is expected to be completed before the end of the year.
Construction of Mazda Malaysia's assembly facility, located on the same grounds as the body shop, started in May 2013. Construction will be completed and operations commence in the spring of next year. The Mazda CX-5, which is currently assembled at Inokom's factory, will then be moved to the new facility.
In total Mazda will invest approximately 100 million ringgit (approximately 3 billion yen) in enhancing its local assembly operations. Given market trends and plans to enhance its model lineup, Mazda expects local production to increase to around 20,000-units per year in the future.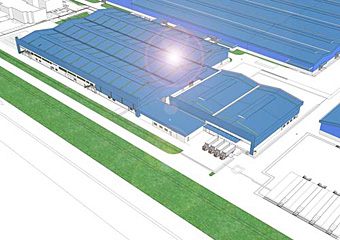 A rendering of the completed vehicle assembly facility
Yuji Nakamine, Mazda's director and senior managing executive officer overseeing global marketing, sales and customer service; in charge of Customer Tsunagari Innovation; and president of Mazda South East Asia Ltd., said, "We regard Malaysia as a key base in the ASEAN region, and we are very happy to take ownership of the body shop and start construction of the assembly facility, both of which will exclusively produce Mazda vehicles. Moving forward, we will continue taking steps to strengthen our local production operations, and in partnership with Bermaz*3 and Inokom, we hope to contribute to the further growth of the automobile industry in Malaysia by offering our customers fantastic, high-quality vehicles."
At present Mazda assembles the Mazda3 (known as Mazda Axela in Japan) and the CX-5 locally for the Malaysian market, and plans to produce 3,000 units of each model annually. The locally-produced CX-5 went on sale in Malaysia this month.
*1 Mazda Malaysia is a joint venture between Mazda and Bermaz Motor Sdn. Bhd. (Mazda 70%, Bermaz 30%)
*2 Inokom Corporation Sdn. Bhd. is a local vehicle production company carrying out production for Mazda Malaysia on a consignment basis.
*3 Bermaz Motor Sdn. Bhd. is a 100% locally-owned national sales company for Mazda vehicles. Its principal shareholder is Malaysian conglomerate Berjaya Corporation.