NEWS RELEASES
Mazda President and CEO Takashi Yamanouchi Receives Order of the Aztec Eagle Award
- President of the United Mexican States bestows the country's highest honor -
HIROSHIMA, Japan—Mazda Motor Corporation today announced that Representative Director and Chairman of the Board, President and CEO, Takashi Yamanouchi has been awarded the Order of the Aztec Eagle. The order is the highest decoration bestowed upon foreign citizens by the government of the United Mexican States. Mexican President, His Excellency Enrique Peña Nieto, presented the award at a ceremony held today at the Embassy of Mexico in Tokyo.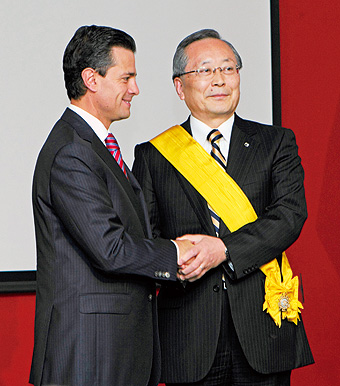 The Order of the Aztec Eagle award ceremony
Takashi Yamanouchi said at the ceremony, "It is a great honor to receive the prestigious Order of the Aztec Eagle award. Mazda's new plant in Mexico is due to start operations in the fourth quarter of fiscal year ending March 2014 and construction is progressing smoothly. Our hope is that the people who will work at the plant will come to understand Mazda's approach to making cars and work for the company with pride. Furthermore, Mazda is fully committed to becoming a good corporate citizen in Mexico and creating opportunities to interact with people in the local community. Moving forward, we will continue our efforts to contribute to the economic growth of both Mexico and Japan and further strengthen the amicable relationship between the two countries."
Mazda entered the Mexican market in 2005 and sold 25,454 vehicles in the country in 2012, giving it a market share of 2.6 percent. Total sales of Mazda vehicles in Mexico had reached approximately 150,000 units as of February 2013. The plant currently under construction in Mexico will be one of Mazda's major production facilities and will produce the Mazda2 (Mazda Demio in Japan), Mazda3 (Mazda Axela) among other models. At the start of operations production capacity will be 140,000 units per year. This will be increased to 230,000 units annually in the fiscal year ending March 2016.