NEWS RELEASES
All-New Mazda CX-5 Proves Popular in Japan
- First-month orders reached 8 times monthly target -
HIROSHIMA, Japan—Mazda Motor Corporation today has announced that since its sales launch in Japan on February 16, 2012 orders for the all-new Mazda CX-5 reached approximately 8,000 units as of March 14. The result is more than 8 times the monthly sales target of 1,000 units.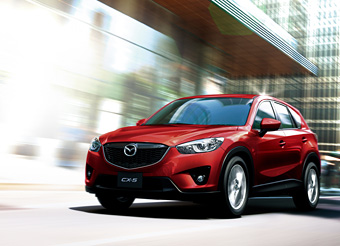 Mazda CX-5 XD L Package
Twenty seven percent of total CX-5 orders are gasoline engine models, surpassing initial expectations. The gasoline engine CX-5 models boast a linear, refined and powerful driving sensation that results in the driver feeling at one with the car. The clean diesel engine model consists of 73 percent of total orders, also exceeding initial expectations, and delivers powerful dynamic performance equivalent to a 4.0L, V8 gasoline engine.
The CX-5 appeals to a wide range of customers particularly those in their thirties and forties. The CX-5 has been valued highly, and customer feedback includes: "The CX-5 has an outstanding design among SUVs"; "Even the fuel economy of the 4WD is excellent"; "It has a good balance between driving performance and economic efficiency"; and "It appears that it does not give a driver any fatigue or stress during a long drive, and the cargo capacity is plenty."
Mazda will start a test drive event to offer an opportunity to drive the CX-5 at dealerships throughout Japan on March 31.
Mazda's representative director and chairman of the board, president and CEO, Takashi Yamanouchi said "Mazda is extremely grateful for the approval from many customers for the all-new CX-5. At the same time, we are gaining confidence about the opportunity in the Japanese market for the clean diesel engine. I am convinced that we will surpass our global sales target of 160,000 units per year and that the CX-5 will become one of our core models alongside the Axela (known overseas as the Mazda3), Atenza (Mazda6) and Demio (Mazda2)."