NEWS RELEASES
Mazda Demio 13-SKYACTIV Named 2011-2012 Car Technology of the Year by the Japan Automotive Hall of Fame
HIROSHIMA, Japan—Mazda Motor Corporation's facelifted Demio compact car (known overseas as the Mazda2) with the SKYACTIV-G 1.3 gasoline engine, together with its development team, has received the 2011-2012 Car Technology of the Year award from the Japan Automotive Hall of Fame (JAHFA). The Mazda Demio 13-SKYACTIV was launched in Japan in June 2011. The result was announced today by JAHFA, a registered nonprofit organization based in Tokyo.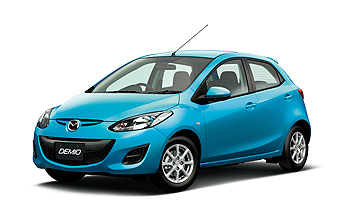 Mazda Demio 13-SKYACTIV
The winner of the Car Technology of the Year award is selected by the Automotive Hall of Fame committee, which comprises eleven university professors and researchers. The Mazda Demio 13-SKYACTIV was recognized for the following points:
Advanced combustion characteristics that were developed through comprehensive analysis of the internal combustion engine
Improved driving performance and improved value-for-money
Best balance of pleasing driving and environmental concern
The breakthrough SKYACTIV-G 1.3 engine in the facelifted Mazda Demio achieves a record high* compression ratio (for a regular gasoline mass production automobile engine) of 14.0:1 and exhibits high efficiency, especially under high load at low rpm. In order to avoid knocking – an unavoidable issue with conventional high-compression engines – the SKYACTIV-G 1.3 features a number of new technologies, such as piston cavities that are specially designed to support ideal combustion, and multi-hole injectors that enable precise fuel injection control.
With the combination of the SKYACTIV-G 13 engine, Mazda's unique i-stop idling stop system and a continuously variable transmission (CVT), the facelifted Mazda Demio delivers outstanding fuel economy of 30.0km/L (10-15 mode test cycle) or 25.0km/L (Japan's JC08 test cycle).
* As of October 30, 2011 (Mazda data)