NEWS RELEASES
Special Edition Mazda Demio '13-SKYACTIV Smart Stylish' on Sale in Japan
- Commemorative model celebrates two-million-unit production milestone with exclusive exterior body color and seats -
HIROSHIMA, Japan—Mazda Motor Corporation today announced a special edition version of the Mazda Demio (known overseas as the Mazda2) compact car to commemorate reaching two million units of total global production. The Mazda Demio '13-SKYACTIV Smart Stylish' comes with stylish body colors and seats and goes on sale today at all Mazda, Mazda Anfini and Mazda Autozam dealerships throughout Japan.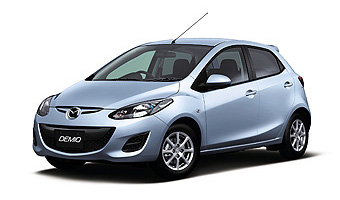 Mazda Demio 13-SKYACTIV Smart Stylish
The special edition Mazda Demio 13-SKYACTIV Smart Stylish is exclusively available with the eye-catching Clear Water Blue Metallic exterior body color. Inside, special seats with red piping enhance the overall sense of style and quality.
Additionally, dark tinted glass on the rear door and liftgate windows and Mazda's advanced keyless entry & start system (usually available as factory-installed options) have been fitted to further heighten comfort and convenience.
The Demio 13-SKYACTIV Smart Stylish is based on the Demio 13-SKYACTIV model grade, which is powered by Mazda's breakthrough new direct-injection 1.3-liter SKYACTIV-G 1.3 gasoline engine. The engine won the 2012 RJC Technology of the Year award in Japan.
Main features of the Mazda Demio 13-SKYACTIV Smart Stylish
Base model

Mazda Demio 13-SKYACTIV (Front-wheel-drive model with a 1.3-liter DOHC DISI*1 engine and a continuously variable transmission [CVT])

Special equipment

Exclusive black seats with red piping
Dark tinted glass (rear door windows/rear liftgate)
Advanced keyless entry (with answer-back function and automatic rear liftgate) & start system with two advanced keys
Immobilizer (approved by Japan's Ministry of Land, Infrastructure, Transportation and Tourism)

Exterior body colors

Clear Water Blue Metallic (exclusive color)
Burgundy Red Mica
Crystal White Pearl Mica
*1 DISI: direct injection spark ignition
Manufacturer's suggested retail prices
Model
Engine
Drive
Transmission
Price including tax
(yen)
Tax
reduction*2
13-SKYACTIV
Smart Stylish
1.3L
DOHC
DISI
FWD
CVT
1,470,000
75%
- A separate recycling fee of 11,280 yen is necessary in addition to the manufacturer's suggested retail prices listed above.
- If the special body color Crystal White Pearl Mica is selected, the price increases by 31,500 yen (including tax).
*2 Japan's eco-car tax reduction program