NEWS RELEASES
Mazdaspeed3 Receives ALG Award for Highest Residual Value in U.S. Sportscar Segment
HIROSHIMA, Japan—Mazda Motor Corporation today announced that the Mazdaspeed3 (known in Japan as the Mazdaspeed Axela) has won the 2012 Residual Value Award in the Sportscar segment from the Automotive Lease Guide (ALG) in the U.S.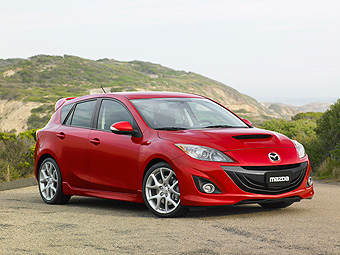 Mazdaspeed3 (U.S. specifications)
Each year, ALG evaluates vehicles available in the U.S. and Canada and predicts which will retain the highest percentage of the purchase price after a three-year period. ALG bases its evaluations after carefully studying numerous factors, including performance, equipment levels, quality and industry pricing trends. As a result, it is a highly trusted source of information and widely used by customers when choosing a new vehicle.
Mazda vehicles have won ALG residual value awards in the U.S. for three consecutive years. The Mazda3 (known in Japan as the Mazda Axela) won the Mid-Compact segment in 2012, and the Mazda CX-9 won the Fullsize Utility segment in 2011.
The Mazdaspeed3 is Mazda's high performance flagship model in the Mazda3 lineup. Its aggressive and sporty styling and more intense dynamic performance has earned a strong following among sports car enthusiasts.