NEWS RELEASES
Mazda2 Local Assembly Begins at New Vietnam Plant
HIROSHIMA, Japan—Mazda Motor Corporation has announced that a Grand Opening Ceremony was held today to mark the beginning of Mazda2 local assembly in Vietnam. The Mazda2*1 is being produced at a newly-constructed assembly plant owned by Vina Mazda Automobile Manufacturing Co., Ltd*2 in the Nui Thanh district of Quang Nam province, central Vietnam.
The ceremony was hosted by Vina Mazda and guests of honor included representatives of the Vietnamese government and Seita Kanai, Mazda's director and executive vice president (Assistant to President; Oversight of Technical Domain and Quality; In charge of promoting Monotsukuri Innovation and R&D Liaison Office).
"The Mazda2 delivers beautiful design, sporty driving dynamics, and superb environmental performance at a level unmatched by other small cars. We are confident that the Mazda2 will be warmly accepted by Vietnamese customers despite the extremely competitive compact car segment. Vietnam is one of the largest markets in the ASEAN region, with a large youthful population and promising economic development in recent years. Mazda is strengthening its support of our local manufacturer and distributor in order to ensure our success in Vietnam," said Executive Vice President Kanai.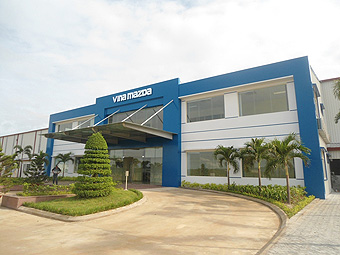 Vina Mazda Automobile Manufacturing Co., Ltd.
Mazda began selling completely built-up vehicles (Mazda2, Mazda3, Mazda6, and CX-9 from Japan, BT-50 from Thailand) through Vina Mazda in March 2011. Mazda announced its decision to begin local assembly of the Mazda2 in Vietnam in August. The move is part of Mazda's plan to accelerate business growth in emerging markets under its Framework for Medium- and Long-Term Initiatives. Mazda expects the Mazda2 to become one of its mainstay products in the Vietnamese market and plans to produce approximately 2,000 units per year.
Vina Mazda and production facility outline (as of end of September 2011):
| | |
| --- | --- |
| Company name: | Vina Mazda Automobile Manufacturing Co., Ltd. |
| Representative (president): | Pham Van Tai |
| Location: | Nui Thanh district, Quang Nam province (office & production facility) |
| Number of employees: | 300 |
| Production facility area: | 75,000m2 |
| Production capacity: | 10,000 units per year (with one shift) |
*1 Five-door hatchback model with 1.5-liter gasoline engine only
*2 100-percent locally-owned automobile assembly and sales company with no capital ties to Mazda