NEWS RELEASES
Mazda Commences Production of Facelifted Axela
- First model to adopt Mazda's highly efficient new SKYACTIV-G 2.0 gasoline engine and SKYACTIV-DRIVE transmission -
HIROSHIMA, Japan—Mazda Motor Corporation has commenced production of the facelifted Mazda Axela (known overseas as the Mazda3) equipped with breakthrough SKYACTIV TECHNOLOGY at the Hofu Plant in Yamaguchi prefecture, western Japan. The facelifted Axela is Mazda's first model to combine the newly developed 2.0-liter SKYACTIV-G 2.0 direct injection gasoline engine with the SKYACTIV-DRIVE six-speed automatic transmission. SKYACTIV-DRIVE reduces slippage to deliver a direct shift feel similar to a manual transmission. Sales of the facelifted Mazda Axela – the second model equipped with SKYACTIV TECHNOLOGY following the facelifted Mazda Demio (known overseas as the Mazda2) – will begin in the Japanese market in fall 2011.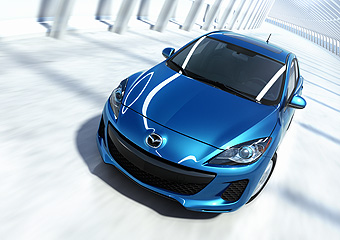 Mazda3 (North American specifications)
The facelifted Mazda Axela with SKYACTIV-G 2.0 and SKYACTIV-DRIVE delivers significantly improved driving performance and fuel economy. In the Japanese market, the SKYACTIV-G 2.0 Axela also features "intelligent-Drive Master" (i-DM), a new technology that is proving popular on the recently released facelifted Mazda Demio. The newly-developed i-DM provides information and driving tips designed to promote a smooth and efficient driving style, thereby supporting enjoyable driving, a more comfortable ride for passengers, and improved fuel economy.
The Mazda Axela is a core model in Mazda's lineup and accounts for a third of the company's global sales. It is also the fastest-selling model in Mazda's current lineup of passenger vehicles, with a cumulative production volume of over three million units*. By equipping the Axela with SKYACTIV-G 2.0 and SKYACTIV-DRIVE, Mazda will further accelerate the introduction of SKYACTIV TECHNOLOGY.
* Data compiled by Mazda, includes overseas production.