NEWS RELEASES
Facelifted Mazda Demio Proves Popular in Japan
- New 13-SKYACTIV model grade drives first-month orders to more than double target -
HIROSHIMA, Japan—Mazda Motor Corporation has announced that first-month orders*1 for the facelifted Mazda Demio (known overseas as the Mazda2) reached 13,500 units, more than double the 6,000-unit monthly target, since its sales launch in Japan on June 30, 2011.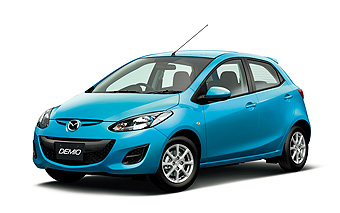 Mazda Demio 13-SKYACTIV
Additionally, the number of new Mazda Demios registered in Japan during July exceeded 10,000 units. This is the first Mazda model to surpass 10,000 registrations in a single month since March 2004, seven years and four months ago.
To date, 70 percent of orders*2 have been for the new 13-SKYACTIV model grade, surpassing initial expectations of 60 percent. The 13-SKYACTIV delivers driving pleasure as well as outstanding fuel efficiency of 30.0km/L (10-15 mode test cycle)/25.0 km/L (JC08 test cycle).
Customers are mainly single men and women, and people over 40 who are downsizing to a compact car. Customer feedback indicates that the main reasons for choosing the facelifted Demio are its outstanding fuel economy, advanced technologies and quiet cabin. Praise from customers includes, "I was strongly attracted by the Demio's fuel economy of 30 km/L with only a gasoline engine," and, "I admire Mazda's approach to find the true potential of the gasoline engine."
Mazda's senior managing executive officer in charge of domestic business, Nobuhide Inamoto, said, "Mazda is extremely grateful for the strong support from so many customers who have pushed sales of the facelifted Demio well beyond our sales plan. Mazda's next-generation SKYACTIV TECHNOLOGY is also proving popular, and we are confident that it will have a positive impact on our overall sales in Japan. Following the Demio, we will continue the rollout of our breakthrough SKYACTIV TECHNOLOGY with the facelifted Mazda Axela (Mazda3) this fall and the all-new Mazda CX-5 next year. This is a very exciting time for Mazda."
*1 As of July 31
*2 Total Mazda Demio orders not including test drive models and rental models