NEWS RELEASES
Mazda Adds Special Needs Vehicle to Premacy Lineup
HIROSHIMA, Japan—Mazda Motor Corporation has introduced a special needs version of the new Mazda Premacy (known as Mazda5 overseas) seven-seat minivan. Sales commenced today at all Mazda, Mazda Anfini and Mazda Autozam dealerships throughout Japan. Manufacturer's suggested retail prices range from 2,253,000 yen (20CS) to 2,589,000 yen (20S).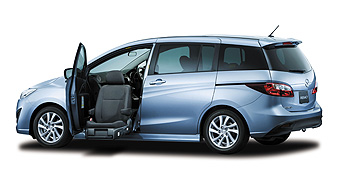 Mazda Premacy 20S special needs vehicle (available from early September)
The Mazda Premacy special needs vehicle features a passenger seat that rotates and lifts up and down. The seat can be operated by switches on the sides of the seat or a wireless remote control. With an improved seat shape and a extra switches on the right side of the seat, the new Premacy special needs vehicle is more comfortable for passengers and more user-friendly for care givers.
Main improvements over the previous generation model
The back part of the lift-up seat has an improved design for greater comfort, and the seat slide range is also extended.
Extra slide and recline switches are added to the right side of the lift-up seat so it can also be operated from the driver's seat.
Manufacturer's suggested retail prices
(* model in the attached photo)
Grade
Drive
Engine type
Transmission
Price (yen)
Tax
reduction*1
20CS
FWD
2.0L DOHC DISI*2
5EC-AT
(Activematic)
2,253,000
-
20S*
2.0L DOHC DISI (i-stop)
2,589,000*3
75%
*1 Japan's eco-car tax reduction program
*2 DISI: Direct Injection Spark Ignition
*3 The 20S model grade will go on sale in early September 2011.