NEWS RELEASES
1991 Le Mans winning Mazda 787B guest stars in 2011 with Johnny Herbert and Patrick Dempsey
HIROSHIMA, Japan—20 years after winning the world's most demanding 24-hour endurance race, the No. 55 Mazda 787B car returned as a guest star for Le Mans 2011. Twice driven in demonstration laps around the legendary Circuit de la Sarthe on Thursday, June 9 and Saturday 11, it thrilled the huge Le Mans crowds with a revival of the unforgettable sound of its 4-rotor engine. This fully-restored unique original also opened the drivers' parade around the Le Mans city center on Friday, June 10.
"It is a wonderful opportunity to be here in Le Mans again this year. It's really my first time in this car and it has lots of personality. I tried to start a relationship with it in two laps!" says Patrick Dempsey, the actor and Mazda RX-8 racer and team owner in the Grand-AM series in the USA. Dempsey was the first to drive the 787B on Thursday, before joining the drivers' parade on Friday to the delight of the excited onlookers. He also participated in Mazda's press conference together with Seita Kanai, Mazda's director and executive vice president, and many of the 1991 winning team members and drivers, as well as Jean-Claude Plassart, the president of the Automobile Club de L'Ouest (ACO, the Le Mans organizer).
At the drivers' parade, 170,000 astonished spectators watched the 700 horsepower racer tear around the streets of Le Mans at the hands of Yojiro Terada (Japan) and David Kennedy (Ireland), both long time Mazda racing drivers at Le Mans. The parade continued with Patrick Dempsey and Seita Kanai accompanied by Pierre Dieudonné (Belgium) and many others.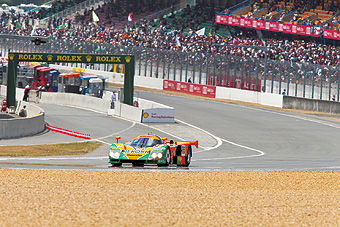 The Mazda 787B has been driven in demonstration laps around the Circuit de la Sarthe at Le Mans
On Saturday, as a warm-up to the race, Johnny Herbert (UK) returned for the first time to the wheel of his winning car for two laps of pure emotion. After piloting the 787B first across the finish line in 1991, he was unable to join his team co-drivers on the podium due to faintness from dehydration. This year however, after comically re-enacting his faint, he was invited to finally step onto the Le Mans podium and celebrate his victory and Mazda's victory; the first and only Japanese car manufacturer to win the 24 hours of Le Mans.
Seita Kanai, executive vice president of Mazda Motor Corporation, says, "It is amazing to see that so many motorsport fans still remember Mazda's victory at the 24 hours of Le Mans 20 years ago and are still so enthusiastic. Our victory was a story of pure commitment and passion from our engineers and the entire team. This same spirit thrives today with the development of our breakthrough SKYACTIV TECHNOLOGY for the next generation of Mazda cars."
Video footage and photographs of the restoration work and the demonstration at Le Mans are available on Mazda's official websites listed below.
Mazda's Facebook fan page:


http://www.facebook.com/mazdacom
Mazda's YouTube channel:


http://www.youtube.com/mazdaofficialweb
Mazda's Victory at Le Mans 20th Anniversary website:


https://www.mazda.com/mazdaspirit/rotary/lemans/