NEWS RELEASES
Mazda Freshens Titan Truck
- Compliant with Japan's Post New Long-term Emissions Regulations -
HIROSHIMA, Japan—Mazda Motor Corporation has freshened the Mazda Titan light-duty truck for the Japanese market. Sales begin today at all Mazda and Mazda Anfini dealers nationwide.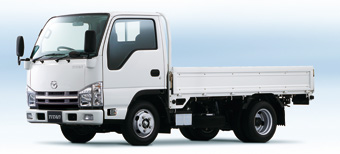 Mazda Titan
(FWD standard cabin model with 3.0-liter diesel engine, flat body, full wide low, 2.0-ton cargo capacity and Deluxe packaging)
The updated Titan's efficient diesel engine delivers substantially improved emissions performance, enabling the truck to meet Japan's Post New Long-Term Emissions Regulations without the need for an aqueous urea selective catalytic reduction (SCR) system. The improvement ensures that the freshened Titan can be used with peace of mind in urban areas that lack a urea supply infrastructure.
Additionally, all of the front-wheel-drive (FWD) diesel engine models qualify for Japan's eco-car tax incentives (by meeting the 2015 fuel economy standard for light commercial vehicles) and are certified as low-emission vehicles in nine metropolitan areas (rated "excellent" on the 2010 low-emission vehicle standards).
Main features of the upgraded Mazda Titan
Improved driving dynamics and environmental performance

A new 3.0-liter diesel engine is fitted to all model grades.
(Maximum power 110kW/150PS, Maximum torque 375Nm/38.2kgf-m)
Improved combustion efficiency and emissions performance due to a newly adopted two-stage turbocharger, ultra-high pressure common-rail system, highly efficient exhaust gas recirculation (EGR), and an exhaust pipe fuel injection system.
Compliant with Japan's Post New Long-Term Emissions Regulations thanks to reduced NOx emissions (due to the enhanced engine performance) and reduced particulate matter (due to a Diesel Particulate Diffuser (DPD) aftertreatment technology that efficiently burns particulate matter collected in a ceramic filter).
All FWD models meet Japan's 2015 fuel economy standard for light-duty commercial vehicles.

Assured user-friendliness with no need for aqueous urea SCR

Because the freshened Titan does not require an aqueous urea SCR system, it can be used with peace of mind in urban areas that lack an aqueous urea supply infrastructure.
Because the updated Titan does not require a urea tank, the previous model's architecture, loading capacity and customizability are carried over.

Enhanced safety features

The Titan's updated safety features meet Japan's tightened standards for Front Underrun Protection (FUP) and for a larger rear reflector.
Manufacturer's suggested retail prices (Tokyo region)
(*Price of the model in the attached photo)
Specifications
(Equipment)
Engine
Drive
Cabin
Cargo bed
Max.
Cargo load
Transmission
Price (yen)
(with tax)
Deluxe
3.0L
DE
Turbo
FWD
Standard
Flat body,
standard full wide low,
wood-lined loading panels
2.0t
Smoother
Auto-Shift
(5-speed)
4,211,550*
5-speed MT
4,067,700
- A separate recycling fee of 9,570 yen for the Standard Cabin, 10,880 yen for the Middle and Wide Cabin and 12,280 yen for the Double Cabin Titan models is necessary in addition to the manufacturer's suggested retail prices listed above.