NEWS RELEASES
Mazda3 Global Production Reaches Three Million Units
- Seven years and ten months after production of original Mazda3 commenced in June 2003 -
HIROSHIMA, Japan—Mazda Motor Corporation has announced that cumulative production of the Mazda3 (known in Japan as the Mazda Axela) reached three million units*1 on April 26, 2011. This milestone was achieved in just seven years and ten months since production of the first-generation model commenced, making the Mazda3 the fastest-selling model in Mazda's current lineup of passenger vehicles. The Mazda3 is a true global model; it is produced in three locations – Mazda's Hofu Plant in Yamaguchi, Japan, the Changan Ford Mazda Automobile (CFMA) plant in Nanjing, China, and AutoAlliance (Thailand) (AAT) – and sold in approximately 90 countries and regions*2. The three-millionth Mazda3 was produced at the Hofu Plant. It is a Japanese-specification five-door hatchback with Mazda's MZR-2.0L engine and i-stop, Mazda's unique idling stop system.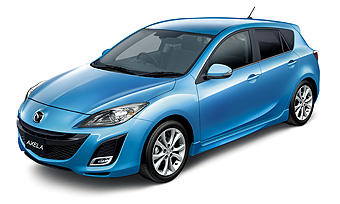 Mazda3 (with Japanese specifications)
Mazda's senior managing executive officer in charge of R&D, Hirotaka Kanazawa, said, "The Mazda3 embodies all three elements of Mazda's DNA: Distinctive Design, Exceptional Functionality, and Responsive Handling and Driving Performance. Its sustained global success has seen it grow into Mazda's mainstay model, and it now comprises a third of all Mazda vehicle sales. Ever since the first-generation Mazda3 appeared on the market, it has evolved to stay relevant despite the major changes in the automobile industry. As well as carrying forward and strengthening Mazda's brand DNA, it has evolved exceptional environmental and safety performance. As we celebrate reaching three million units, I would like to thank the millions of Mazda3 customers for their support and reaffirm Mazda's commitment to delivering outstanding environmental and safety performance balanced with driving pleasure that goes beyond your expectations."
*1 Data from Mazda's internal records
*2 CY2010 sales result