NEWS RELEASES
Mazda Announces New Compact SUV Will be Mazda CX-5
- The first of Mazda's next-generation products to blend SKYACTIV TECHNOLOGY with KODO design -
HIROSHIMA, Japan—Mazda Motor Corporation today announced that its new compact crossover SUV will be called the Mazda CX-5. It is the production model derived from the Mazda MINAGI concept car, which debuted at the Geneva Motor Show* in March this year and will be shown at the New York International Auto Show that opens on April 20, 2011. The CX-5 will be the first production vehicle to incorporate Mazda's new design theme, 'KODO - Soul of Motion' as debuted on the Mazda SHINARI concept car, as well as the full range of breakthrough SKYACTIV technologies, including engines, transmissions, body and chassis. The CX-5 will join Mazda's global line-up in 2012.

The "CX" in CX-5 represents Mazda's line-up of crossover SUV vehicles, which also includes the Mazda CX-7 and Mazda CX-9. The CX-5 will be the compact model in the series.
The Mazda CX-5 will make its international debut at the 64th IAA (Internationale Automobil-Ausstellung) Motor Show to be held in Frankfurt, Germany in September 2011.
* The Geneva Motor Show is officially titled the 81e Salon International de l'Auto de Genève
---
Reference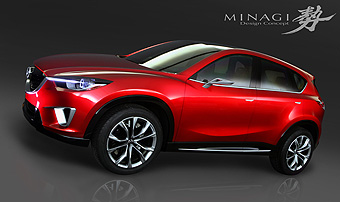 Mazda MINAGI, the concept from which the Mazda CX-5 is derived
Details about the Mazda MINAGI are available here.