NEWS RELEASES
Mazda to Hold World Premiere of All-New BT-50 Pickup
- New compact pickup truck to zoom in at the Australian International Motor Show -
HIROSHIMA, Japan—Mazda Motor Corporation will hold the global unveiling of the all-new Mazda BT-50 compact pickup truck at the 2010 Australian International Motor Show during a press conference on Friday, October 15, 2010. The show will be opened to the public from 5 p.m. on Friday, October 15, and the all-new BT-50 will hold pride of place on the Mazda stand until the show closes on Sunday, October 24.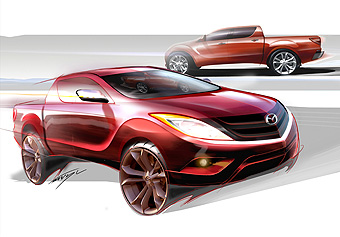 All-new Mazda BT-50 Double Cab
The all-new Mazda BT-50 is presented as an "active lifestyle vehicle" that overturns the conventional image of a compact pickup truck with modern and refined styling.
The new model was developed from the ground up as a brand new type of vehicle. As well as strength and dependability, the all-new BT-50 presents universally recognizable beauty and provides the perfect solution for a wide range of customers who lead active lifestyles, including families, workers, and pleasure-seekers. The exterior design features crisp lines that owners will look on with pride; an imposing presence that indicates reliability; sculptured beauty like an athlete's finely muscled body; and sporty and dynamic forms. By balancing all these elements, the athletic and individual design gives the all-new BT-50 an overwhelming presence that turns heads and makes it instantly recognizable.
The styling of the all-new Mazda BT-50 increases anticipation of the driving pleasure to come and represents a new direction in the compact pickup truck market.
Another significant display at this year's Australian International Motor Show is Mazda's range of next- generation SKY Concept*1 powertrains, which will be making their Australian debut. Mazda's 2007 'Sustainable Zoom-Zoom' commitment is to reduce overall average fuel economy levels by 30 percent by 2015 when compared with 2008 levels, and the Mazda SKY-G*1 gasoline and SKY-D*1 diesel engine concepts will play a significant part in achieving this ambitious target.
Scheduled for sale
All-new Mazda BT-50 (Global premiere)
Currently on sale
Mazda2, Mazda3, Mazda6, Mazda CX-7, Mazda CX-9, Mazda MX-5, Mazda RX-8, current Mazda BT-50
Technology exhibits
Next-generation Mazda SKY-G*1 direct injection gasoline engine
Next-generation Mazda SKY-D*1 clean diesel engine
Next-generation Mazda SKY-Drive*1 automatic transmission
*1 These are concept names for engines and transmissions that are scheduled to be introduced from 2011 onward.