NEWS RELEASES
New Mazda Carol Launched in Japan in Time for Christmas
- Remodeled micro-mini features new interior and exterior design, improved safety and 24.5 km/L top class fuel economy -
HIROSHIMA, Japan—Mazda Motor Corporation has fully updated the Mazda Carol micro-mini for the Japanese market. Sales of the new Carol commence today at all Mazda Autozam, Mazda and Mazda Anfini dealerships nationwide.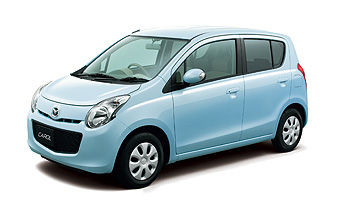 Mazda Carol XS (FWD model with CVT)
Thanks to its charming design, excellent fuel economy and affordability, the Mazda Carol is popular among women, and supported by a broad range of customers. In its first full remodeling since September 2004, the Carol offers new interior and exterior design. Also featuring reduced curb weight and a continuously variable transmission (CVT) with an auxiliary gearbox, the Carol provides improved eco-friendliness and even better value for money.
The attractive new exterior design shows off soft, rounded curves that inspire affection. Inside, the instrument panel now has a distinctive circular design. Seats upholstered in a bright combination of beige and brown create a lively, stylish impression. The updated Carol is also more user friendly than ever, with highly visible large dials, an easy-to-use floor-mounted shift lever and several useful storage features.
All model grades offer improved eco-friendliness and qualify as super ultra-low emission vehicles (SU-LEV), with exhaust emissions at least 75 percent lower than Japan's 2005 standards. The CVT and five-speed manual transmission grades exceed Japan's "2010 fuel economy standard plus 25%." The Carol's automatic transmission grades exceed the "2010 fuel economy standard plus 15%." The most fuel-efficient versions in the range, the front-wheel drive (FWD) grades with CVT, achieve outstanding figures of 24.5 km/L*. With this outstanding eco-friendly performance, all Carol model grades qualify for Japan's eco-car tax reduction and incentive programs. Additionally, the new Mazda Carol provides ample safety protection with structures and equipment, such as supplemental restraint system (SRS) airbags, to mitigate potential injuries in the event of a collision. Theft prevention devices, such as a vehicle immobilizer, have also been newly adopted.
Manufacturer's suggested retail prices for the new Mazda Carol range from 899,850 to 1,167,600 yen, including sales taxes. The target sales volume is 800 units per month.
Main features of the new Mazda Carol
1. Design
Carrying forward the previous model's charming character, the new Carol's distinctive design also emphasizes a lively character, quality and security.
Exterior
| | |
| --- | --- |
| - | New front face. The Carol adopts Mazda's hallmark five-point lower grille, which has been adapted to match the rounded design and enhance the model's appeal. |
| - | The profile features a sweeping, stylish roofline and a stretched shoulder line. |
| - | Six exterior body colors are available, including Shiny Green Metallic (new), Air Blue Metallic, Milk Tea Beige Metallic and Maroon Brown Pearl. |
Interior
| | |
| --- | --- |
| - | A rounded design theme is used throughout the interior, and bright colors provide an enhanced sense of space. |
| - | Centered on the distinctive circular design, the stylish instrument panel offers outstanding operability with easy-to-read dials. |
| - | A patterned seat design in a combination of beige and bright tea-colored material reinforces the light and airy interior ambience. |
2. Environmental and safety performance
Offering a smooth and reassuring ride, the Carol also boasts improved fuel economy and a full complement of safety equipment.
| | |
| --- | --- |
| - | The upgraded Carol has improved low-speed power and high-speed fuel economy due to reduced bodyweight, a variable valve timing (VVT) system that improves combustion efficiency, and a CVT with an auxiliary gearbox. The FWD CVT model grades achieve top fuel economy of 24.5 km/L*. |
| - | All grades qualify for Japan's eco-car tax reductions (grades with CVT or five-speed manual transmissions (MT) qualify for 75 percent reductions; four-speed automatic transmission (AT) models for 50 percent reductions). All grades also qualify for Japan's eco-car incentive program. |
| - | A newly adopted information display can be toggled to show current fuel economy, average fuel economy or remaining driving range. |
| - | Various safety equipment — including driver and passenger side SRS airbag systems, a lightweight shock-absorbing body, and an interior structure designed to minimize head injuries — mitigates potential injuries to occupants in the event of a collision. |
| - | A theft-prevention security alarm system is standard equipment on all models. The XS grade also features a vehicle immobilizer as standard. |
3. Packaging and equipment
The new Carol offers enhanced practicality and a more comfortable interior achieved through close attention to detail.
Packaging
| | |
| --- | --- |
| - | More space between rear seat passengers provides greater comfort. Access has been improved thanks to larger door openings and lower side sills. |
| - | A spacious cargo area can hold a baby stroller even when four occupants are in the vehicle. |
| - | Split rear folding seats in the XS model grade provide enhanced versatility. |
Equipment
| | |
| --- | --- |
| - | A seat lifter and tilting steering wheel (XS grade only) enable drivers to find their ideal driving position. |
| - | Mazda's advanced keyless entry and push button engine start system is standard equipment on the XS model grade. |
| - | All models feature windows that block approximately 90 percent of UV rays. |
| - | Enhanced storage features on the instrument panel include multiple trays, a shopping bag hook and a driver's side cup holder. The center console also has four bottle holders for occupants in both front and rear seats. |
| - | The XS model grade features a vanity mirror with an attached light (passenger and driver's side). |
| - | High grade door mirrors with embedded LED turn signals on the XS grade contribute to enhanced safety protection. |
| - | 4WD model grades feature a driver's side heated seat. |
Manufacturer's suggested retail prices for the Mazda Carol
Grade
Drive
Engine
Transmission
Price (yen)
Tax
reduction
With tax
Without tax
GS
FWD
660 DOHC
VVT
5-speed MT
899,850
857,000
75%
4-speed AT
929,250
885,000
50%
CVT
960,750
915,000
75%
4WD
4-speed AT
1,057,350
1,007,000
50%
CVT
1,088,850
1,037,000
75%
XS
FWD
CVT
1,039,500
990,000
75%
4WD
1,167,600
1,112,000
75%
| | |
| --- | --- |
| - | A separate recycling fee of 9,440 yen is necessary in addition to the manufacturer's suggested retail prices listed above. |
| - | Sales of the five-speed MT model will start in February 2010. |
| | |
| --- | --- |
| * | Fuel economy figures are measured according to the 10-15 mode test cycle approved by Japan's Ministry of Land, Infrastructure, Transport and Tourism (MLIT). |