NEWS RELEASES
Mazda Holds Presentation Ceremony to Donate Special Needs Vehicle
- Donation marks the one millionth visitor to the MAZDA Zoom-Zoom Stadium Hiroshima -
HIROSHIMA, Japan—To mark the one-millionth visitor to the MAZDA Zoom-Zoom Stadium in Hiroshima, Mazda Motor Corporation today held a presentation ceremony for the donation of a vehicle modified to assist people with special needs. The one-millionth fan visited the brand new ballpark on August 1. The ceremony was held at the stadium before the start of today's Japanese pro baseball Central League game between the Hiroshima Toyo Carp and the Yokohama BayStars. Nobuhide Inamoto, a managing executive officer at Mazda, presented the keys of one Mazda Biante Autostep minivan to representatives from the Hagukuminosato Workplaza Higashi, a social welfare organization chosen by the Hiroshima City Council of Social Welfare for the donation.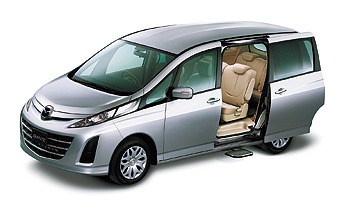 Mazda Biante Autostep
As part of its submission to Hiroshima City authorities for the acquisition of naming rights to the new municipal baseball stadium and to give back to the local community, Mazda pledged that it would donate one special needs vehicle to a social welfare organization in Hiroshima for every one million people who visit the stadium.
Mazda recognizes that local communities are the foundations of the Mazda Group. By conducting community-focused activities around the world, Mazda contributes to the needs of the communities in which it does business.