NEWS RELEASES
Mazda Repeats Gold Medal Win at the 40th WorldSkills Competition
- First time for a Japanese competitor to clinch the gold medal in the car painting category -
HIROSHIMA, Japan—Mazda Motor Corporation employee Takeshi Tsutsumi won the gold medal in the car painting category at the 40th WorldSkills competition held from September 1-6, 2009, in Calgary, Alberta, Canada. Tsutsumi was a member of the Japanese delegation competing at this year's WorldSkills event. His achievement marks the second consecutive time that a Mazda employee has won a gold medal at WorldSkills; the previous competition was held in 2007. The victory is the sixth time overall that Mazda has won a gold medal. It is also the first time that a competitor from Japan has prevailed in the car painting category.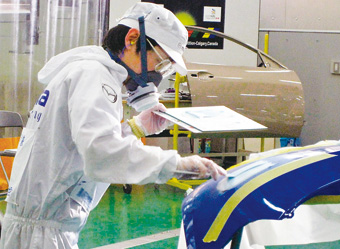 Mazda employee Takeshi Tsutsumi, shown here painting a vehicle at a Mazda headquarters training facility
The car painting skills competition involves performing repairs to the vehicle body, parts, garnish, and painting. The use of filler, such as putty, to perform surface repairs, as well as sanding, and surface polishing, are also evaluated during the competition.
WorldSkills is an international competition which was inaugurated in 1950 as an arena for young craftspeople aged 22 years or younger to compete in areas of trade and technology. The goal of the competition is to assist participating nations in promoting job training and improving technical skills. This year, contestants from 50 countries vied to be the world's best. Japan was represented by competitors who won their respective category at the National Skill Olympics held last year.
Mazda runs a Technical Olympics Training Program for select young technicians to help develop their skills as contestants for the WorldSkills competition, encourage their individual growth as craftspeople and heighten their technical skills. This also improves aggregate skill levels, enabling Mazda to provide higher quality products to its customers through better production techniques.