NEWS RELEASES
Mazda to Exhibit Clean Diesel CX-7 at the Frankfurt Motor Show
- Mazda is the first Japanese automaker to successfully equip a passenger vehicle with an SCR system -
HIROSHIMA, Japan—Mazda Motor Corporation will exhibit freshened CX-7 SUVs with European specifications at the 63rd Frankfurt Motor Show, which will be held from September 15 through 27, 2009.*1 Newly added to the updated CX-7 lineup – and to be exhibited at the Frankfurt Show – is a version powered by Mazda's MZR-CD 2.2 liter diesel engine mated to a selective catalytic reduction (SCR) system. SCR systems substantially reduce nitrous oxide (NOx) emissions, which helps the diesel CX-7 to achieve outstanding eco-friendly performance that complies with strict Euro5 emissions regulations. The clean-running diesel CX-7 will be launched in Europe in October 2009, with Australian sales following in November.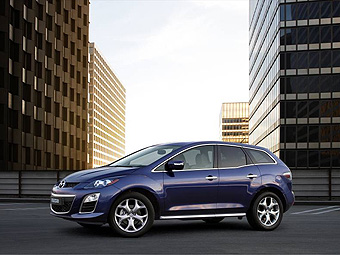 Mazda CX-7 equipped with a MZR-CD 2.2-liter clean diesel engine (European specifications)
Mazda's SCR system purifies vehicle exhaust gases by spraying AdBlue®*2 aqueous urea directly into the exhaust flow in front of the catalytic converter. Through a chemical reaction, the urea converts approximately 40 percent*3 of nitrous oxides into harmless nitrogen. Previously, the large size of SCR systems limited their use to trucks and buses. By reducing the size and weight of the system components, which include an AdBlue® storage tank fitted under the luggage area, Mazda is the first Japanese automaker to successfully equip a passenger vehicle with an SCR system. Even with the added components, the diesel powered CX-7 offers the same 455 liters of luggage space (VDA approved*4) as gasoline engine models. Additionally, Mazda's SCR system was designed to minimize consumption of AdBlue®, enabling the clean diesel CX-7 to run for 20,000 kilometers between refills under normal driving conditions.
Main exhibits
Reference exhibits
Mazda MX-5 Superlight Version (World premiere)
Mazda RX-8 Hydrogen RE
Scheduled for launch
Freshened Mazda CX-7 (European specifications)
Models currently on sale
Mazda2, Mazda3, Mazda5, Mazda6, Mazda MX-5, Mazda RX-8
| | |
| --- | --- |
| *1 | The Frankfurt Motor Show is officially titled the 63rd Internationale Automobil-Ausstellung (IAA); press days are September 15 and 16, and the public days are September 17 through 27. |
| *2 | AdBlue® is a form of aqueous urea and a registered trademark of the Verband der Automobilindustrie e.V. (VDA) |
| *3 | Compared to a clean diesel CX-7 with no SCR system under the New European Driving Cycle test conditions |
| *4 | A method of measuring luggage space approved by the Verband der Automobilindustrie e.V. (VDA) |