NEWS RELEASES
All-New Mazda Axela Proves Popular in Japan
- First-month of post-launch orders exceed target by 3.8 times; 50 percent of customers choose i-stop -
HIROSHIMA, Japan—Mazda Motor Corporation today announced that it received 7,640 orders for the all-new Mazda Axela (known overseas as the new Mazda3) during its first month of sales in Japan, since its launch on June 11 through to July 12, 2009. This result is 3.8 times the monthly sales target of 2,000 units.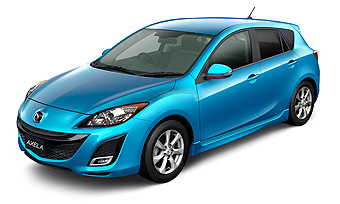 All-new Mazda Axela Sport 20S (with i-stop)
Exceeding initial expectations, half of the total orders have been for models with i-stop, Mazda's unique engine stop-start system, which is standard equipment on 2.0-liter models (20C, 20S and the front-wheel drive [FWD] 20E grade).
Approximately 70 percent of customers selected the Sport (five-door hatchback) body type, with the remaining 30 percent opting for the four-door Sedan version. Approximately 50 percent of customers selected models with the 2.0-liter engine, while 40 percent chose the 1.5-liter engine. By model grade, 30 percent of the orders were for the 15C Sport, 28 percent for the 20S Sport, 14 percent for the 15C Sedan, and 10 percent for the FWD 20E Sedan.
Mazda has received orders from a wide range of people, although most buyers have been men in their twenties and thirties, or people who have families and are in their fifties and sixties. Customer feedback indicates that the main reasons for choosing the Axela are its exterior design, excellent environmental performance enhanced by the i-stop feature, and outstanding driving performance and safety features.
The all-new Mazda3 is progressively being rolled out in global markets. Highlighted by early success in Australia, where the new model set an all-time record for Mazda3 monthly sales in June 2009, Mazda's updated eco-sports car is also enjoying healthy demand overseas.
Manufacturer's suggested retail prices of the all-new Mazda Axela
Body type
Model
Drive
Engine
Transmission
Price
(incl. sales tax)
Tax
reduction
Sedan
(4-door)
15C
FWD
1.5L DOHC
CVT
1,660,000 yen
50%
20C
2.0L DOHC
DISI (i-stop)
5-speed
EC-AT
1,890,000 yen
75%
20E
2,050,000 yen
75%
20E (4WD)
4WD
2.0L DOHC
4-speed
EC-AT
2,100,000 yen
-
Sport
(5-door)
15C
FWD
1.5L DOHC
CVT
1,660,000 yen
50%
20C
2.0L DOHC
DISI (i-stop)
5-speed
EC-AT
1,890,000 yen
75%
20S
2,140,000 yen
75%
20E (4WD)
4WD
2.0L DOHC
4-speed
EC-AT
2,100,000 yen
-
Mazdaspeed
Axela
FWD
2.3L DOHC
DISI Turbo
6-speed MT
2,678,000 yen
-