NEWS RELEASES
'Mazda Axela Prize' Created for 2009 All-Star Games
- To be awarded to the fans' favorite player -
HIROSHIMA, Japan—Mazda Motor Corporation has created the Mazda Axela Prize, a brand new Mazda Axela hatchback, which will be presented to the player who makes the best impression on fans through his exciting play during the two Japanese pro baseball 2009 all-star games. Mazda is the main sponsor for the two all-star games, which are organized by the Nippon Professional Baseball Association (NPB). The games will be played at the Sapporo Dome on July 24 and at the MAZDA Zoom-Zoom Stadium Hiroshima on July 25, 2009.
The selected player will receive an all-new front-wheel drive Mazda Axela compact with a 2.0-liter engine. Equipped with standard features that includes i-stop, Mazda's unique engine stop/start system, Mazda's latest eco-sports car delivers advanced environmental and safety attributes alongside superb driving performance.
Overview of the Mazda Axela Prize
-
Prize awarded to: the player who most impresses the fans through his exciting play during the two all-star games.
-
Prize jury: Mazda Axela Prize selection committee
(To be comprised of members from the NPB organization and Mazda)
-
Prize: one Mazda Axela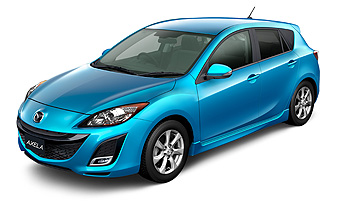 All-new Mazda Axela Sport 20S (with i-stop and factory-installed options)
Like the Japanese pro baseball all-star games, the Axela and Mazda's other products attract a great amount of attention. Mazda aims to offer driving pleasure in harmony with environmental and safety features in all of its vehicles. The Hiroshima-based automaker is supporting the all-star games because they evoke the same kind of dreams and emotions as Mazda's vehicles.