NEWS RELEASES
Mazda Refreshes Premacy for Japanese Market
- Top-line 20Z grade even sportier; fuel economy gauge added as standard equipment on most model grades -
HIROSHIMA, Japan—Mazda Motor Corporation has announced upgrades to its Premacy (known as the Mazda5 in overseas markets) compact minivan in Japan. Popular due to its sporty styling and driving performance, the freshened Premacy goes on sale today at all Mazda, Mazda Anfini and Mazda Autozam dealerships nationwide. Manufacturer's suggested retail prices (including sales tax) for front-wheel drive (FWD) models range from 1,820,000 to 2,195,000 yen.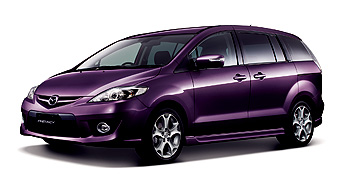 Mazda Premacy 20Z (FWD model with 2.0-liter DISI engine and five-speed automatic transmission)
Since its debut in 1999, the Mazda Premacy compact minivan has earned plaudits for its efficient seven-seat packaging, outstanding driving performance and sporty styling. Ten years later, the Premacy is currently sold in over 60 countries and has become Mazda's best-selling minivan*1, with total global sales surpassing 710,000 units*2.
The range topping 20Z model grade now comes with specially designed aluminum alloy wheels and seat and door trim that enhance its sporty appearance. To highlight its sharp lines, exclusive Dark Plum Mica exterior body paint is also newly available for this model grade. In response to high demand, the mainstay 20CS grade has been augmented with a new fuel economy gauge and a freshly designed center panel. With the addition of these features and a full equipment review, the upgraded Mazda Premacy 20CS is even more affordable than before.
All Mazda Premacy FWD model grades qualify for Japan's eco-car tax incentives, with 50 percent reductions on both the automobile acquisition tax and the automobile weight tax.
| | |
| --- | --- |
| *1 | According to Mazda's fiscal year 2008 global sales results |
| *2 | As of May 31, 2009 |
Main features of the freshened Mazda Premacy
| | |
| --- | --- |
| - | Sporty, high-quality dark grey 17-inch aluminum alloy wheels which are exclusive to the 20Z model grade. |
| - | Eight exterior body colors are available, including the newly added Aluminum Metallic and Radiant Ebony Mica. The special exterior color Dark Plum Mica is also exclusively available for the 20Z model grade. |
| - | Newly designed fabric seat and door trim which is exclusive to the 20Z model grade. |
| - | The 20CS, 20S and 20Z model grades are equipped with a trip computer that includes a fuel economy gauge as standard equipment. |
| - | All model grades feature a glossy piano black center panel. |
| - | Side and rear view cameras are available as a factory-installed option for the 20CS, 20S and 20Z model grades. |
Manufacturer's suggested retail prices of the freshened Mazda Premacy
(*price of the model in the attached photo)
Grade
Drive
Engine
Transmission
Price (yen)
Tax
reduction
With tax
Without tax
20F
FWD
2.0L DISI
5-speed EC-AT
1,820,000
1,733,334
50%
4WD
2.0L
4-speed EC-AT
2,031,000
1,934,286
-
20CS
FWD
2.0L DISI
5-speed EC-AT
1,886,000
1,796,191
50%
4WD
2.0L
4-speed EC-AT
2,122,000
2,020,953
-
20S
FWD
2.0L DISI
5-speed EC-AT
2,100,000
2,000,000
50%
4WD
2.0L
4-speed EC-AT
2,290,000
2,180,953
-
20Z
FWD
2.0L DISI
5-speed EC-AT
2,195,000*
2,090,477
50%
| | |
| --- | --- |
| - | A separate recycling fee of 13,740 yen is necessary in addition to the manufacturer's suggested retail prices listed above. If the curtain (front, second and third row seats) and front side SRS airbag system is selected as a factory-installed option (available for the 20CS, 20S and 20Z model grades), the fee is 14,310 yen (including sales tax). |
| - | If the special body color Crystal White Pearl Mica is selected, the price increases by 31,500 yen (including sales tax). |