NEWS RELEASES
Mazda Delivers First Premacy Hydrogen RE Hybrid to Iwatani Corporation
HIROSHIMA, Japan—Mazda Motor Corporation today delivered the first Mazda Premacy Hydrogen RE Hybrid to Iwatani Corporation, an energy development company based in Japan. The Premacy Hydrogen RE Hybrid is Mazda's latest hydrogen rotary engine (RE) vehicle which uses hydrogen as a fuel and features a unique hybrid system.
The Mazda Premacy Hydrogen RE Hybrid can run on both hydrogen and gasoline thanks to a dual-fuel system that was developed for the current RX-8 Hydrogen RE. The addition of a new hybrid system significantly enhances the vehicle's performance and contributes to its increased hydrogen fuel range of 200 kilometers; double that of the RX-8 Hydrogen RE.
The Premacy Hydrogen RE Hybrid is the second hydrogen rotary engine vehicle to be leased to Iwatani Corporation, following an RX-8 Hydrogen RE that was delivered in March 2006. The new model will be used for business purposes at the company's offices in Western Japan, before being located at the Japan Hydrogen & Fuel Cell Demonstration Project's (JHFC) Kansai Airport Hydrogen Station, where it will be used at the Kansai International Airport in Osaka and for a variety of other purposes.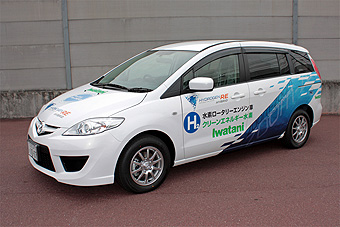 Mazda Premacy Hydrogen RE Hybrid (Iwatani Corporation version)
Akihiro Kashiwagi, Mazda's program manager in charge of hydrogen RE development, said, "Mazda is delighted to deliver our newest hydrogen rotary engine vehicle to Iwatani, which has been engaged in advancing the further uses of hydrogen energy for many years. Mazda will use the feedback we receive from Iwatani to further improve the performance of hydrogen-fueled rotary engine vehicles as we wish to do our part to achieve a hydrogen energy society in the future."
Based on its Sustainable Zoom-Zoom plan, Mazda is committed to pursuing harmony between driving pleasure and environmental and safety features. Mazda constantly strives to offer vehicles that "look inviting to drive, are fun to drive, and make you want to drive them again."
Main specifications of the Mazda Premacy Hydrogen RE Hybrid
| | |
| --- | --- |
| Base model: | Mazda Premacy |
| Overall length: | 4,565 mm |
| Overall width: | 1,745 mm |
| Overall height: | 1,620 mm |
| Engine: | Mazda's hydrogen rotary engine (with dual-fuel system) |
| Motor: | Alternating current synchronous motor |
| Maximum output: | 110 kW |
| Generator: | Alternating current synchronous generator |
| Battery: | Lithium-ion (Li-ion) |
| Seating capacity: | Five |
| Fuel: | Hydrogen and gasoline |
| Hydrogen tank: | 35 MPa high-pressure tank |
History of Mazda's hydrogen vehicle development
1991
Developed first hydrogen rotary engine vehicle, HR-X
1992
Conducted test drive of golf cart equipped with fuel cell
1993
Developed second hydrogen rotary engine vehicle, HR-X2
Developed MX-5 test vehicle equipped with hydrogen rotary engine
1995
Conducted Japan's first public road tests of a hydrogen rotary engine vehicle, Capella Cargo.
1997
Developed Demio FC-EV
2001
Developed Premacy FC-EV, conducted first public road test in Japan
2003
Announced RX-8 hydrogen rotary engine development
2004
Received MLIT approval for public road testing of RX-8 Hydrogen RE
2006
Started commercial leasing of RX-8 Hydrogen RE in Japan (eight models have been delivered to date)
2007
Signed agreement to provide RX-8 Hydrogen REs to Hynor, a Norwegian national transportation project
2008
Commenced public road tests in Norway with RX-8 Hydrogen RE validation vehicle
2009
Commenced commercial leasing of Premacy Hydrogen RE Hybrid in Japan
For more information on Mazda's hydrogen rotary engine vehicles, please visit:


https://www.mazda.com/mazdaspirit/env/