NEWS RELEASES
Mazda Adds New Features to RX-8 in Japan
- Popular options are now standard on all grades for improved comfort and more high quality body colors are available -
HIROSHIMA, Japan—Mazda Motor Corporation has added fresh features to the four-door, four-seat rotary-powered Mazda RX-8 sports car for the Japanese market. The updated models go on sale today at all Mazda and Mazda Anfini dealers nationwide.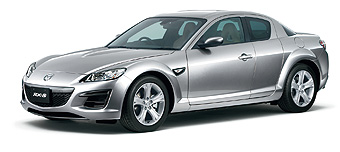 Mazda RX-8 Type E (with 6-speed automatic transmission)
Standard equipment across the entire RX-8 range has been updated with popular features that provide added comfort and convenience. The updates include rain-sensing windshield wipers and Mazda's auto-light system (which switches the headlights on automatically according to ambient light conditions). Two additional exterior body colors, silver and gray, reflect the RX-8's high quality and accentuate its exceptional sports car styling.
Main features of the freshened Mazda RX-8
| | |
| --- | --- |
| - | Rain-sensing windshield wipers, auto-light system, water-repellent coating (on the front door windows and door mirrors) and Mazda's advanced keyless entry and engine start system now come as standard equipment on all model grades. |
| - | The addition of two new body colors – Aluminum Metallic and Metropolitan Gray Mica – brings the available exterior range to seven colors. |
| - | Revised model grade lineup (base model was renamed Type G). |
| - | Audio-less specification standard for all model grades (to best match each driver's needs, the space for a head unit in the center panel is left open. The Audio-less spec allows for a variety of audio systems). |
Manufacturer's suggested retail prices for the Mazda RX-8
(*price of the model in the photo)
Grade
Drive
Engine
Transmission
Price (yen)
With tax
Without tax
Type G
RWD
Water-cooled,
in-line 2-rotor
(654cc x 2)
6-speed AT
(Activematic)
2,630,000
2,504,762
Type E
6-speed AT
(Activematic)
2,970,000*
2,828,572
Type S
6-speed MT
2,930,000
2,790,477
Type RS
6-speed MT
3,180,000
3,028,572
| | |
| --- | --- |
| - | A separate recycling fee of 12,330 yen is necessary in addition to the manufacturer's suggested retail prices listed above. If the curtain and front side SRS airbag system is selected as a factory-installed option, the fee is 12,900 yen. |
| - | If the special body color Crystal White Pearl Mica is selected, the price increases by 31,500 yen (including tax). |