NEWS RELEASES
Mazda to Sponsor Japanese Pro Baseball's 2009 All-Star Games
HIROSHIMA, Japan—Mazda Motor Corporation has announced that for the second year running it will be the main sponsor for two all-star games organized by the Nippon Professional Baseball Association in Japan.
The Mazda all-star games 2009 will be played at the Sapporo Dome on July 24 and at the MAZDA Zoom-Zoom Stadium Hiroshima (Mazda Stadium) on July 25, 2009.
Why Mazda Will Sponsor These Games
Featuring team rosters comprised of marquee players from the Japanese pro baseball leagues, the all-star games have become a popular midsummer sporting event in Japan. Unlike the single all-star game held every year in the US by Major League Baseball, Japanese pro baseball all-stars play two or three games in different cities over a two or three day period.
Mazda decided to support the all-star games as the main sponsor to help re-energize Japan by bringing the dynamic allure, dreams and emotions of the sport to as many people as possible. The games will also coincide with the launch of the all-new Mazda Axela (known overseas as the Mazda3), which blends a sporty ride with top class environmental performance.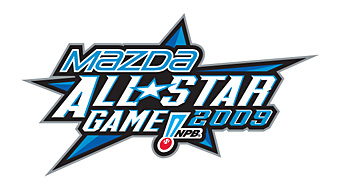 Mazda All-Star Game 2009 Logo
Event Details
An overview of the "Mazda All-Star Game 2009" events will be made in an official announcement from the event organizers on May 29, 2009.
Mazda will hold a variety of activities to support the all-star games. These activities include fan balloting for the all-star teams' player selection, which begins in late May and continues through to the "Mazda All-Star Game 2009" days on July 24 and 25.