NEWS RELEASES
Mazda Releases Redesigned AZ-Wagon i in Japan
- New special needs model provides improved user-friendliness and greater peace of mind -
HIROSHIMA, Japan—Mazda Motor Corporation today announced the launch of its redesigned Mazda AZ-Wagon i, a special needs vehicle equipped with a sloping access ramp for wheelchairs. The new model is based on the fully redesigned AZ-Wagon micro-mini that was launched in Japan in September 2008. Sales commence today at all Mazda, Mazda Anfini, and Mazda Autozam dealerships throughout Japan.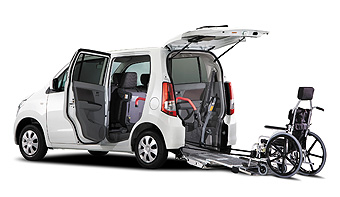 Mazda AZ-Wagon i (four-seat version)
The new AZ-Wagon i has a wide opening at the rear and a spacious cabin with a high roof. Other enhancements designed for wheelchair users include a new three-point seatbelt and a handrail on both sides of the rear cabin, as standard equipment. Additionally, user-friendliness is also improved for caregivers by a sloping entry/exit ramp that is gentler than the previous model.
Main features of the all-new AZ-Wagon i
| | |
| --- | --- |
| - | New three-point seatbelt for wheelchair users (the previous model was equipped with a two-point seatbelt) |
| - | A handrail on both sides of the rear cabin provides extra support and comes as standard equipment |
| - | Easier wheelchair access due to the lower floor and gentler sloping ramp |
| - | Anti-theft immobilizer fitted as standard equipment |
Manufacturer's suggested retail prices for the all-new AZ-Wagon i
Model
Engine
Drive
Transmission
Seating
capacity
Price (yen)
AZ-Wagon i
DOHC VVT
FWD
4-speed AT
3
1,497,000
4
1,521,000
| | |
| --- | --- |
| - | The prices include vehicle and accessories. The AZ-Wagon i is exempt from Japan's consumption tax. |
| - | A separate recycling fee of 11,640 yen is necessary in addition to the manufacturer's suggested prices listed above. |
| - | The four-seat version has a folding rear seat; the three-seat version has no rear seat. |