NEWS RELEASES
Mazda to Exhibit Special Needs Vehicles at Int. Home Care & Rehabilitation Exhibition 2008
- The AZ-Wagon i, MPV Second Row Lift-up Seat and Biante Autostep will be on display -
HIROSHIMA, Japan—Mazda Motor Corporation will exhibit three special needs vehicles at the 35th International Home Care & Rehabilitation Exhibition (H.C.R.) 2008, organized by Japan's Health and Welfare Information Association, from September 24 through 26, 2008, at the Tokyo International Exhibition Center.
Mazda will display three special needs vehicles intended for the Japanese market. The AZ-Wagon i is equipped to carry wheelchairs, the MPV Second Row Lift-up Seat vehicle features a second-row passenger seat with a lift-up function, and the Biante Autostep is based on the Mazda Biante mid-size tall 'high-roof' minivan that was launched in July 2008.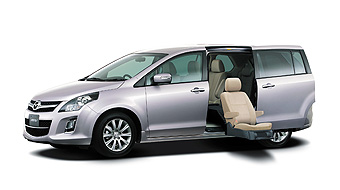 Mazda MPV Second Row Lift-up Seat
The International H.C.R. Exhibition covers medical and health care equipment ranging from handcrafted self-help devices to state-of-the-art special needs vehicles from all over the world. Mazda has participated in this event since 1995.
Outline of Mazda's exhibits at the 35th Int. H.C.R. Exhibition 2008
AZ-Wagon i (aftermarket model)
The AZ-Wagon i is based on the space-efficient micro-mini AZ-Wagon. People in wheelchairs can get in and out of the vehicle through the rear liftgate opening.
MPV Second Row Lift-up Seat (aftermarket model)
Based on the mid-size Mazda MPV minivan, the MPV Second Row Lift-up Seat vehicle is designed to transport and assist wheelchair users. The second row seat automatically elevates and rotates for ease of use.
Biante Autostep (reference model)
Mazda's newly developed tall 'high roof' Biante minivan features an "Autostep" function to help passengers step into the rear cabin. The Autostep automatically extends and withdraws when the sliding door is opened and closed.