NEWS RELEASES
Mazda to Showcase All-New Mazda6 and Mazda Taiki Concept at the 2008 Beijing Motor Show
- Mazda will also promote the Sustainable Zoom-Zoom plan, which aims to harmonize driving pleasure with environmental and safety features -
HIROSHIMA, Japan—Mazda Motor Corporation will showcase the European specification of the all-new Mazda6 (known as the all-new Mazda Atenza in Japan) and Mazda Taiki, the fourth concept car in the Nagare design series, at the 2008 Beijing International Motor Show* from Sunday, April 20, through Monday, April 28, 2008.
* Officially titled the 2008 Beijing International Automobile Exhibition, the press days are Sunday, April 20, and Monday, April 21. The public days are Tuesday, April 22, through Monday, April 28, 2008.
| | |
| --- | --- |
| | |
| All-new Mazda6 (European specification) | Mazda Taiki |
The new Mazda5 Hydrogen RE Hybrid, equipped with Mazda's hydrogen rotary engine, will be exhibited along with other future environmental and safety technologies to promote Sustainable Zoom-Zoom, Mazda's long-term vision for technology development. Around the world, the Sustainable Zoom-Zoom plan aims to harmonize driving pleasure with environmental and safety performance. Based on this vision, Mazda is committed to working towards a sustainable future that brings continued happiness and excitement to everyone by offering vehicles that "look inviting to drive, are fun to drive, and make you want to drive them again."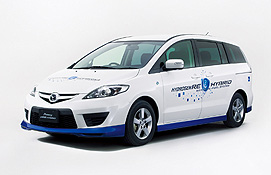 New Mazda5 Hydrogen RE Hybrid
Mazda will also debut the freshened Mazda RX-8 ahead of its introduction to the Chinese market. The Mazda MX-5 (known as the Mazda Roadster in Japan) Power Retractable Hard Top will be shown as a reference model. A total of 16 vehicles* from nine model lines will be exhibited on the Mazda stand.
* On press days, 14 vehicles from nine model lines will be displayed.
List of exhibits
Reference exhibits
All-new Mazda6 European spec (Preview)
Mazda Taiki (China premiere)
Mazda MX-5 Power Retractable Hard Top (North American spec)
Scheduled for sale
Freshened Mazda RX-8 (China premiere)
Models currently on the Chinese market
Mazda2 Jinxiang (sedan) and 5-door hatchback
Mazda3 sedan and Sport (five-door hatchback)
Mazda5
Mazda6 (sedan, five-door hatchback)
Future environmental and safety technical exhibits
New Mazda5 Hydrogen RE Hybrid (China premiere)
Next generation I-4 direct injection gasoline engine cutaway model
Next generation clean diesel engine cutaway model
Next generation RENESIS engine cutaway model
Smart Idle Stop System (SISS) engine cutaway model
Intelligent Transport System (ITS) technology