NEWS RELEASES
New Mazda2 Three-Door Hatchback at the 2008 Geneva International Motor Show
HIROSHIMA, Japan—For the first time ever, a Mazda2 three-door hatchback joins the popular Mazda2 model range. Bringing with it all the attributes of the five-door hatchback, the three-door model is even sportier and more affordable. Mazda will showcase the world premiere of this new vehicle at the 78th annual Geneva International Motor Show to be held from Tuesday, March 4, through Sunday, March 16, 2008.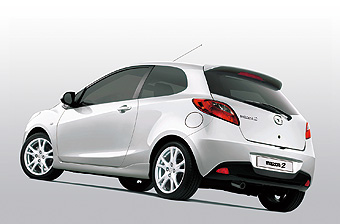 The new Mazda2 three-door hatchback

The new Mazda2 three-door hatchback is designed to attract new customers to further Mazda's continued growth in the European market. It comes with the same lively and responsive MZR 1.3-liter and 1.5- liter gasoline, powertrains, and the same MZ-CD 1.4-liter common-rail turbo diesel, as the five-door hatchback. These engines achieve high fuel efficiency along with particularly low CO2 emissions.

Launched in September 2007 as Mazda's first new-generation Zoom-Zoom vehicle to evolve to the next level, the new Mazda2 was an immediate hit with European customers. In December 2007, it was awarded five stars for adult occupant protection on Euro-NCAP crash testing and has won more than 20 automotive awards. These include Car of the Year awards in Austria, Belgium, Bulgaria, Croatia, Denmark, Greece and New Zealand, along with the Japan RJC Car of the Year.

By completely redesigning the body and chassis and implementing Mazda's unique gram strategy, the Mazda2 is nearly 100 kilograms lighter compared to the previous version, with a vehicle weight under the 1,000 kilogram threshold. This outstanding result resists the trend to heavier and bigger cars.

Also at Geneva this year are three European debuts: the Mazda Taiki concept car, equipped with Mazda's next-generation rotary engine, the Mazda5 Hydrogen RE Hybrid.

Officially called the Salon International de l'Auto de Genève, the Geneva show's press days are on March 4 and 5, and the public days are March 6 through16, 2008.