NEWS RELEASES
Mazda Wins Gold Medal at the 39th WorldSkills Competition
HIROSHIMA, Japan—Mazda Motor Corporation employee Ko Hideshima won the gold medal in the sheet metal technology category at the 39th WorldSkills competition, held from November 14 to 21 in central Japan's Shizuoka prefecture. Hideshima's win marks the fifth time that Mazda has won a gold medal since the 21st competition was held in 1973. Two Mazda employees represented Japan at this year's WorldSkills event, one competing in sheet metal technology and the other in the car painting category.
The sheet metal technology category tests skills, including metal cutting, beating, bending and joining, that are necessary to turn a flat sheet of metal into a finished product. Ko Hideshima was awarded the gold medal for his outstanding ability to draw up diagrams for better dimensional precision while working on sheet metal in addition to the high scores given to his metal bending techniques.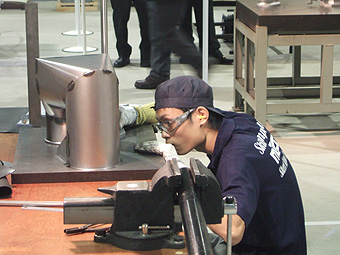 Mazda employee Ko Hideshima, shown here competing in the sheet metal technology category
Mazda's senior managing executive officer in charge of production and business logistics, Masaharu Yamaki, said, "For many years Mazda has aimed at improving its technical standards by passing on the superb skills of our senior technicians as part of the development of our younger technical staff. Winning gold in the WorldSkills competition is a highly significant achievement and is proof that our efforts are bearing fruit. Looking to the future, we will continue to focus on our employee training and technical skills transfer efforts so that we can offer our customers even better quality products. We hope that both of Mazda's contestants at this year's competition will continue to hone their skills to support Mazda's excellent manufacturing technologies and do their best to mentor junior technicians."
The WorldSkills is an international competition which was inaugurated in 1950 as an arena for young craftspeople (22 years old or younger) to compete in areas of trade and technology. The goal of the competition is to assist participating nations in promoting job training and improving technical skills. This year, over 800 contestants from 50 countries vied to be the world's best. Japan was represented by 48 entrants who had won their respective category at the National Skill Olympics held last year.
Mazda runs a Technical Olympics Training Program for select young technicians to help develop their skills as contestants for the WorldSkills competition, encourage their individual growth as craftspeople and heighten their technical skills. Since 1962, Mazda has sent a total of 392 contestants to both the national and international competitions. At the national level, 29 people have clinched the top prize and 154 Mazda employees have won awards. For the international competition, including this year's contestants, five Mazda employees have been awarded gold and 13 have come away with other awards.