NEWS RELEASES
Mazda Releases Upgraded Bongo Series and Titan Dash in Japan
- These models deliver improved user-friendliness through enhanced features and comply with new long-term emissions regulations -
HIROSHIMA, Japan—Mazda Motor Corporation has announced the introduction of the partially remodeled Bongo van and truck, Bongo Brawny van and Titan Dash truck. All four models go on sale today at Mazda and Mazda Anfini dealerships throughout Japan. The Bongo van and Bongo truck are also available at Mazda Autozam dealerships.
Due to improved exhaust purification systems, the Bongo van and truck, Bongo Brawny van and Titan Dash now all comply with Japan's new long-term emissions regulations that were adopted in 2005. The Bongo van and truck are the first light commercial vehicles with a load capacity under one ton to meet these regulations. The new Bongo and Titan models also meet the Law Concerning Special Measures for Total Emission Reduction of Nitrogen Oxides and Particulate Matter from Automobiles in Specified Areas, which enables them to be sold and registered anywhere nationwide, including Japan's three major cities (Tokyo, Nagoya and Osaka). Additionally, the diesel engine grades offer improved fuel efficiency, further reducing their environmental impact and improving cost efficiency.
In response to customer demand, the updated Bongo truck now comes equipped with enhanced user-friendly features. Power windows and door locks are standard equipment on all grades. Improved safety is also among the highlights of these refreshed models; a passenger airbag is standard equipment on the Bongo van GL Super grade and available as a factory-installed option on all other model grades.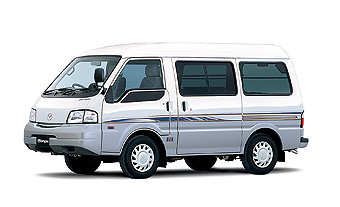 Mazda Bongo 'GL Super' van
Main features of the upgraded Bongo series and Titan Dash
Enhanced environmental performance
| | |
| --- | --- |
| - | All grades comply with Japan's 2005 new long-term emissions regulations (industry-first for light commercial vehicles with a load capacity less than one ton). Improvements include a larger particulate filter and adjusted compression ratios on the diesel models and an improved catalyst on the gasoline models. |
| - | Diesel engine grades offer improved fuel economy. (For manual transmission grades, fuel economy improves from the current 15.4 km/L to 15.6 km/L. For automatic transmission grades, fuel economy improves from the current 14.0 km/L to 14.2 km/L). |
Improved features
Bongo truck
Power windows, power door locks, variable speed intermittent wipers, passenger side door cabin light switch (standard on all grades)
Bongo van/Bongo Brawny van
Variable speed intermittent wipers, rear cargo area rope hooks (standard on all grades)
Titan Dash
Variable speed intermittent wipers, rear panel tray (standard on all grades). CD player (Custom grade)
Manufacturer's suggested retail prices of major model grades
| | |
| --- | --- |
| [Bongo van] | * Price of the model in the attached photo |
Drive
Engine
Transmission
Grade
Specification
Price (yen)
With Tax
Without Tax
RWD
1.8L
Gasoline
4-speed
EC-AT
DX
Wide-low, 1,000 kg load, standard roof, 4 door, 3/6 seats
1,622,250
1,545,000
2.0L
Diesel
5-speed
MT
Wide-low, 1,000 kg load, standard roof, 4 door, 3/6 seats
1,821,750
1,735,000
4-speed
EC-AT
GL
Super
Low floor, 750 kg load, high roof,4 door, 2/5 seats
2,196,600
2,092,000
4WD
1.8L
Gasoline
4-speed
EC-AT
DX
Low floor, 900 kg load, high roof,4 door, 3/6 seats
1,883,700
1,794,000
1.8L
Gasoline
4-speed
EC-AT
GL
Super
Low floor, 900 kg load, high roof,4 door, 2/5 seats
2,150,400*
2,048,000
Drive
Engine
Transmission
Grade
Specification
Price (yen)
With Tax
Without Tax
RWD
1.8L
Gasoline
5-speed
MT
DX
Single wide low, 850 kg load, standard cargo area, iron bed
1,345,050
1,281,000
Wide low, 1,000 kg load, long cargo area, iron bed
1,394,400
1,328,000
2.0L
Diesel
Single wide low, 850 kg load, standard cargo area, iron bed
1,643,250
1,565,000
Wide low, 1,000 kg load, long cargo area, iron bed
1,692,600
1,612,000
4WD
1.8L
Gasoline
Single wide low, 850 kg load, standard cargo area, iron bed
1,611,750
1,535,000
2.0L
Diesel
Single wide low, 850 kg load, standard cargo area, iron bed
1,936,200
1,844,000
Drive
Engine
Transmission
Grade
Specification
Price (yen)
With Tax
Without Tax
RWD
2.0L
Gasoline
5-speed
MT
DX
Low floor, 1,250 kg load, 5 door, 3/6 seats
1,891,050
1,801,000
4-speed
EC-AT
Wide low, 1,250 kg load, 5 door, 3/6 seats
2,022,300
1,926,000
2.0L
Diesel
5-speed
MT
Wide low, 1,250 kg load, 4 door, 3/6 seats
2,188,200
2,084,000
Drive
Engine
Transmission
Grade
Cabin
Specification
Price (yen)
With Tax
Without Tax
RWD
2.0L
Gasoline
5-speed
MT
DX
Standard
Single wide low, standard cargo area, 1,350 kg load
1,645,350
1,567,000
4-speed
EC-AT
Wide low, standard cargo area, 1,350 kg load
1,810,200
1,724,000
5-speed
MT
Double
Wide low, standard cargo area, 1,000 kg load
1,891,050
1,801,000
| | |
| --- | --- |
| - | Prices indicated are for the Tokyo area. (Prices vary by area.) |
| - | A separate recycling fee is necessary in addition to the manufacturer's suggested retail prices listed above. |