NEWS RELEASES
Mazda Commences Sales of Fully Redesigned Demio
- Mazda's evolved personal compact car offers a glimpse into emerging modern values -
HIROSHIMA, Japan—Mazda Motor Corporation has announced the Japanese launch of the fully redesigned Mazda Demio (known overseas as the all-new Mazda2) which goes on sale at all Mazda, Mazda Anfini and Mazda Autozam dealers throughout Japan from today, July 5, 2007. The target sales volume for the all-new Demio is 5,000 units a month. Prices range from 1,125,000 to 1,580,000 yen (including tax).
The first generation Mazda Demio went on sale in August 1996. It heralded a new trend in the compact car segment for exceptional space and functionality in a conveniently compact vehicle. The second generation Demio improved on the characteristically Mazda-like driving dynamics and became a popular choice for many consumers. As of May 2007, the Demio had a total production volume in Japan of over 1,040,000 units and has become Mazda's biggest selling model in the Japanese market. The all-new third generation Demio was developed using a "personal smart commuter" concept, with the emphasis on emerging modern values such as increased concern for environmental and safety issues and a greater emphasis on design.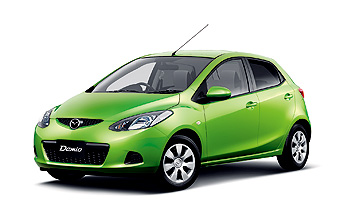 The all-new Mazda Demio (13C-V)
The all-new Demio offers driver-friendly functionality and packaging as well as individual styling that makes you want to get in and drive it. The design team aimed to inherit the fun-to-drive Zoom-Zoom DNA that is common to all Mazda vehicles and balance it with top class fuel economy, safety performance and comfort levels. By completely redesigning the body and chassis, the new Demio is around 100 kilograms lighter than the previous model*. The Demio 13C-V grade combines Mazda's newly developed, naturally aspirated MZR 1.3L Miller-cycle engine with continuously variable transmission (CVT) to achieve top class 10-15 mode fuel efficiency of 23.0 km/L (rated by Japan's Ministry of Land, Infrastructure and Transport [MLIT]). This represents an improvement of approximately 20 percent over the previous model*. All model grades also offer superb environmental performance, with emissions at least 75 percent lower than Japan's 2005 standards.
Mazda's Representative Director, Chairman of the Board, President and CEO, Hisakazu Imaki, said, "The all-new Mazda Demio is a core global model and it is intended to accelerate our progress toward achieving the objectives set out in the Mazda Advancement Plan, our new mid-term plan announced in March of this year. Furthermore, this is our very first product that embodies "advanced Zoom-Zoom", offering harmony between driving pleasure and environmental and safety features, based on our long-term technology development vision, 'Sustainable Zoom-Zoom.' At Mazda, we will continue to drive our business forward through product-led growth and, at the same time, enhance our efforts to develop environmental and safety technologies to help realize a sustainable future."
| | |
| --- | --- |
| * | Previous Demio Casual with MZR 1.3L engine and 4-speed electronically controlled automatic transmission compared to the all-new Demio 13C-V. |
Main features of the all-new Mazda Demio
1. Inviting to look at: a compact body achieved through "Condensed Dynamism"
| | |
| --- | --- |
| - | Following the exterior design theme of "coordinated movements", the new Demio looks as though it is about to move even when parked. The deep contours fore and aft of the A-pillars and distinctive character lines that extend from the front fender arches to the body shoulders are key features that express condensed dynamism in the compact body. |
| - | The interior design theme was 'a space that communicates movement'. The cabin has a reassuring yet open and light atmosphere. |
| - | The interior upholstery and trim come in four designs to suit each model grade: simple Black, sporty Modern Black, light and liberating Calm White, and Sporty Black for the Demio SPORT model. |
| - | Three body colors, Spirited Green Metallic, Metropolitan Grey Mica and Golden Yellow Metallic have been newly added. A total of 11 colors are now available, offering customers the enjoyment of choosing a color to suit their individual taste. |
2. Fun to use: the pursuit of functionality and control for unsurpassed convenience
| | |
| --- | --- |
| - | Reducing the car's length by 40 mm (30 mm for the SPORT and 13S grades) and height by 55 mm has made the new Demio easier to maneuver and given it a more stylish appearance. The turning radius is only 4.7 m (for models with 14-inch wheels). |
| - | Both the front and rear seats boast ample space for occupants. The driver's seat is designed to accommodate most driver body sizes, from 150 cm tall women to men with a height of 185 cm. It is fully adjustable with an ergonomic arrangement of the pedals and a gear lever position that assure an optimum driving position. |
| - | The cargo area is approximately 1,000 mm wide and provides plenty of space for day-to-day requirements - 250 liters (VDA measurement) when the seatbacks are in the upright position. |
| - | The interior is equipped with innovative driver-friendly features, including a magazine rack in the glove box, a handbag tray between the front seats and an AUX jack for portable audio devices (factory installed option). |
| - | A clear view through the large front windshield makes road signs and traffic lights easier to see. The lowered shoulder line affords the driver good downward visibility toward the front and sides to facilitate early identification of road lines and neighboring vehicles while parking. |
| - | To keep the cabin fresh and clean, the fully automatic air conditioner includes an Allergy-buster unit (a particulate filter to aid hay fever sufferers), a light-catalyzed deodorizer in the cabin ceiling and non-absorbent fabric on the seats in case of spillages (depending on the model grade). |
3. Entertaining to drive: Mazda's characteristic driving dynamics whatever the segment.
| | |
| --- | --- |
| - | Leveraging the know-how which Mazda refined through its development of earlier new-generation Zoom-Zoom products, the development team pursued a comfortable, quiet and responsive ride while further developing Mazda's characteristic handling and braking. With a newly developed body and chassis, and helped by an approximate 100 kg weight reduction, the all-new Demio offers a more reassuring and nimble ride. |
| - | The 13C-V grade achieves superb fuel economy and an extremely smooth ride as the result of uniting a new, naturally aspirated MZR 1.3L Miller-cycle engine with Mazda's continuously variable transmission (CVT). |
| - | Used for the first time in a car produced by Mazda, CVT is employed in the 13C-V, 15S, and SPORT grades to realize better fuel economy and linear acceleration. For the CVT used in the SPORT grade, a seven-speed manual mode is included that enables the driver to shift up and down using steering wheel-mounted paddle shifters. |
| - | Models equipped with the MZR 1.3L or 1.5L engines have also been improved. Mechanical resistance was reduced through close examination and adjustment of every detail, and the gear ratios were optimized to provide more responsive acceleration and enhanced fuel economy. |
| - | Both the front McPherson strut suspension and rear torsion beam suspension were made lighter, while local rigidity was increased at connection points to deliver a comfortable ride, assured handling, and superior straight-line driving stability. |
| - | The all-new Demio is the first car produced by Mazda which has electric power-assisted steering built into the steering column. The amount of assistance varies depending on vehicle speed and driving conditions to enhance the driver's connection to the car. This technology also improves the Mazda-unique driving feel and contributes to better fuel consumption, whether maneuvering at low speeds or cruising on the highway. |
| - | After a full chassis design review, the use of 980 MPa-grade ultra-high-tensile steel and high-tensile steel was increased in order to enhance body rigidity and safety levels. Strengthening the sheet steel welds in the door and tailgate frames further improved the body local rigidity and allowed further weight reduction. |
| - | The new Demio achieves top class cabin quietness due to reductions in engine and drivetrain noise and vibration, road noise, and wind noise. The all-new Demio has outstanding aerodynamic characteristics with a drag coefficient of 0.32, which contributes to its improved fuel efficiency. |
| - | For those who seek sportier driving, the SPORT grade offers CVT with a seven-speed manual mode, exclusively tuned suspension, special 16-inch alloy wheels, exclusive front grille, and head-turning aeroparts that emphasize the sporty yet stable appearance. |
4. Safety features: the pursuit of advanced safety that meets society's needs
| | |
| --- | --- |
| - | In addition to basic active safety features for driving, cornering and stopping, a fully adjustable driver's seat and excellent visibility help ensure a safe journey. Additionally, a four-wheel antilock braking system (4W-ABS) and electronic brake-force distribution (EBD) with brake assist are standard equipment for all models. An electric four-wheel drive system (e-4WD) that supports driving on slippery roads is available for some grades. |
| - | Mazda's Advanced Impact Distribution and Absorption System is a protective body structure that has been further developed to achieve higher collision safety performance and weight reduction. Improved measures to handle a frontal impact include front side members that are straighter and have larger cross-sections than those of the previous model; ultra-high-strength reinforcement in the front bumper; and extensive use of high-tensile steel in the body. |
| - | For side impacts, the body's triple-H structure is even stronger than that of the previous model owing to B-pillars that are made of 980 MPa-grade high-tensile steel. A second impact beam has been added to further limit door intrusion. Additionally, in the event of a rear impact, rear side members have been straightened and enlarged when compared to the previous model to efficiently disperse the impact energy. |
| - | Mazda's Supplemental Restraint System (SRS) air bags are installed for occupant protection in the front seats on all model grades. Front side air bags that provide chest protection for front seat occupants and curtain airbags that provide head protection for all outboard occupants (in the event of a side impact) are available on all model grades, except the 13F, as factory installed options. |
5. Environmental performance: efforts to protect the environment
| | |
| --- | --- |
| - | The Demio 13C-V, with Mazda's MZR 1.3-liter Miller-cycle engine and CVT, achieves a fuel economy of 23.0 km/L (rated by the MLIT). The other models also achieve excellent fuel economy figures. |
| - | All model grades have exhaust emissions at least 75 percent lower than Japan's 2005 standards. In addition, all grades, except for the 5-speed manual transmission version of the Demio 15C and Demio SPORT, qualify for Japan's Green Tax exemptions. |
| - | In order to reduce the concentration of volatile organic compounds (VOC), which is a potential cause of Sick-house Syndrome, the Mazda Demio employs low-VOC emitting resins, paints, and adhesives in the cabin. It satisfies the indoor VOC concentration level guideline figures for 13 substances that were set by Japan's Ministry of Health, Labor and Welfare. |
| - | Mazda started activities to promote recycling in 2005. Among them is the bumper-to-bumper recycling technology, which is an initiative to promote recycling from the early stages of vehicle development. Mazda achieved a 95 percent total vehicle recycling ratio (for end-of-life vehicles) during Fiscal Year 2006 (April 1, 2006 to March 31, 2007) and continues to drive further recycling efforts. |
Manufacturer's suggested retail prices
Grade
Engine
Transmission
Price (yen)
With tax
Without tax
13F
MZR 1.3L
4-speed EC-AT
1,125,000
1,071,429
13C
MZR 1.3L
4-speed EC-AT/5-speed MT
1,200,000
1,142,858
13C-V
MZR 1.3L Miller Cycle
CVT
1,310,000
1,247,619
13S
MZR 1.3L
4-speed EC-AT
1,360,000
1,295,239
15C
MZR 1.5L
CVT/5-speed MT
1,360,000
1,295,239
SPORT
MZR 1.5L
CVT(w/7-speed manual mode)/5-speed MT
1,580,000
1,504,762
| | | | | |
| --- | --- | --- | --- | --- |
| 13C | MZR 1.3L | 4-speed EC-AT | 1,394,250 | 1,327,858 |
| 13S | MZR 1.3L | 4-speed EC-AT | 1,554,250 | 1,480,239 |
Supplementary data (FWD models)
Body type
Hatchback
Grades
13F
13C
13C-V
13S
15C
SPORT
Dimensions
Overall length x
Overall width x
Overall height

<mm>

3,885 x 1,695 x 1,475
3,895 x
1,695 x
1,475
3,885 x
1,695 x
1,475
3,895 x
1,695 x
1,475
Wheelbase

<mm>

2,490
Track (front/rear)

<mm>

1485/1475
1,475/1,465
1465/1455
Ground clearance

<mm>

155
Weight*

<kg>

990
4AT: 990
5MT: 970
990
990
CVT:1,000
5MT: 980
CVT:1,020
5MT:1,000
Seating capacity
5
Engine
Model
ZJ-VE
ZJ-VEM
ZJ-VE
ZY-VE
Type
Water-cooled in-line four cylinder DOHC 16-valve
Displacement

<cc>

1,348
1,498
Maximum power output

<kW(PS)/rpm>

67 (91)/ 6,000
66 (90)
/ 6,000
67 (91)
/ 6,000
83 (113) / 6,000
Maximum torque

<N·m(kg-m)/rpm>

124 (12.6)/ 3,500
120
(12.2)
/ 4,000
124
(12.6)
/ 3,500
140 (14.3)/ 4,000
Steering
Rack and Pinion
Suspension (front/rear)
MacPherson struts/ Torsion beam
Brakes (front/rear)
Ventilated discs/ Leading-trailing shoe drum brakes
Tires (front/rear)
165/70
R14 81S
175/65
R14 82S
175/65
R14 82S
185/55
R15 81V
175/65
R14 82S
195/45
R16 80W
Wheels
14 x 5 1/2J
14 x 6J
14 x 6J
15 x 6J
14 x 6J
16 x 6 1/2J
10-15 mode fuel economy
(MLIT)

<km/L>

21.0
21.0
23.0
21.0
CVT:20.0
5MT:19.4
CVT:19.2
5MT:19.4
Conforming regulatory level
At least 75% lower emissions than Japan's 2005 standard (SU-LEV) [All models]
2010 fuel economy standard +20% [13C-V, SPORT w/CVT]
2010 fuel economy standard +10% [13F,13C,13S,15C w/CVT]
2010 fuel economy standard +5% [15C w/5MT, SPORT w/5MT]
Green Tax exemptions
Applicable for 13F, 13C, 13C-V, 13S, 15C w/CVT, SPORT w/CVT
| | |
| --- | --- |
| * | Curb weight varies depending on selected factory-installed options. |