NEWS RELEASES
Mazda Builds 800,000th Roadster
- The world's favorite lightweight, open-top, two-seat sports car sets a new record -
HIROSHIMA, Japan—Total production of Mazda Motor Corporation's Roadster reached 800,000 units on January 30, 2007. This significant milestone was achieved 17 years and nine months after production commenced in April 1989. The Roadster was certified as the world's top selling lightweight, open-top, two-seat sports car by Guinness World Records of the U.K. when production reached 531,890 units in May 2000. Now that cumulative production has topped 800,000 units, Mazda is reapplying with the Guinness organization to have the record updated. The Roadster is known as the MX-5 in Europe and North America.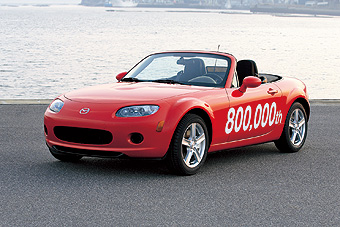 The 800,000th Roadster (Soft top model destined for the North American market)

The current third generation Roadster was launched in August 2005. As a lightweight, open-top sports car, it features enhanced driving performance through carefully scrutinized savings in body weight, optimal weight distribution and the latest features to meet safety and environmental requirements. In August 2006, Mazda added the Power Retractable Hard Top model to the Roadster lineup. It features a groundbreaking electric roof system that doesn't reduce trunk space at all. To date, the Roadster has won more than 40 awards, including 2005-2006 Japan Car of The Year, and enjoys worldwide acclaim.

Mazda will continue to evolve the Roadster and carry forward the "Jinba Ittai" (rider and horse as one) concept of the original, so that even more people will have the chance to experience the fun of a car that responds precisely as the driver intents.