NEWS RELEASES
Mazda Launches Fully Redesigned Familia Van
- It features an enlarged, easy-to-use cargo area, a more functional interior and improved exhaust emissions and fuel economy -
HIROSHIMA,Japan—Mazda Motor Corporation has released the all-new Mazda Familia Van. A commercial vehicle for the Japanese market, the new Familia Van has many improved and practical features, and goes on sale nationwide today at all Mazda and Mazda Anfini dealers.
Enhancements to the Familia Van include a larger cargo space with greatly increased capacity. The cargo floor has been lowered and flattened, and the rear liftgate aperture increased, to facilitate loading and unloading of items in the trunk area. The cabin is packed with features to maximize use of the available space: a foldaway table that is attached to the passenger seatback which can support a computer; a center console box with a whiteboard dry-erase writing surface built onto its lid; and a tray which can hold a briefcase at the rear of the center console, to name a few. Additionally, all models meet Japan's 2005 exhaust emission standards, with the 1.2-liter and 1.5-liter versions qualifying for the Japanese government's Green Tax exemptions.
The target sales volume for the entire Familia Van model range is 300 units a month.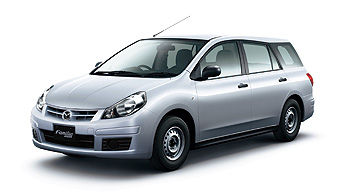 Mazda Familia Van GX
(FWD model with 1.5-liter engine and 4-speed electronic automatic transmission)
Main features of the upgraded Familia Van
Significantly improved cargo area
-
Increased capacity
Length of the cargo area floor: 1,952mm (with two occupants), width between wheels: 1,150mm. The cargo area can accommodate 91 boxes of A4-size paper,*1 putting the new Familia Van among the best in its class.
*1Calculated using 310 x 220 x 245mm boxes. Weight was not considered.
-
A cargo area and trunk liftgate designed to facilitate loading and unloading
The trunk liftgate (dimensions from the top of the aperture to the bottom) is 995mm, which is 90mm greater than the previous model. The height of the cargo floor from the ground is 525mm, some 60mm lower than the previous model. These dimensions, together with the flat cargo floor design, make loading and unloading easier without putting undue strain on the person performing the work.
User-friendly cabin
-
The following features have been included to enhance operability and utility:
A foldaway computer table on the passenger seatback; a whiteboard dry-erase writing surface on the center console top box lid; a briefcase tray at the rear of the center console; a driver's side pullout cup holder with a bottle cap tray; a shopping bag hook on the panel in front of the passenger's seat; a pen holder on the instrument panel located near the driver's seat; a passenger side instrument panel upper box for item storage; and a passenger side seat undertray for business papers (among other features).
Outstanding low emissions and fuel consumption
| | |
| --- | --- |
| - | The 1.2-liter and 1.5-liter models achieve a four-star rating for exhaust emissions that were 75 percent or lower than the levels required by the Japanese government's 2005 exhaust emission regulations. The 1.8-liter models achieve a three-star rating for its 50 percent reduction on 2005 emission levels. |
| - | The 1.5-liter models meet 2010 fuel economy standards plus 20 percent. The 1.2-liter and 1.8-liter models meet 2010 fuel economy standards plus 10 percent. |
| - | The 1.2-liter and 1.5-liter models qualify for Japan's Green Tax exemptions. |
Safety equipment
The following are included as standard equipment:
| | |
| --- | --- |
| - | A driver's side Supplemental Restraint System (SRS) airbag (for all grades). |
| - | Electronic Brake Force Distribution (EBD), Anti-lock Brake System (ABS) and Brake Assist features (for all grades). |
| - | An Autolight System (which switches headlights on automatically; for the VX and GX grades). |
| - | Front passenger seatbelt pre-tensioners and load limiters (for all grades). |
| | |
| --- | --- |
| Manufacturer's suggested retail prices for Familia Van models | (* Price of the model in the photo) |
Grade
Drive
Engine
Transmission
Price (yen)
With tax
Without tax
DX
FWD
1.2-liter DOHC
4-speed
automatic
1,233,750
1,175,000
1.5-liter DOHC
1,335,600
1,272,000
VE
1.2-liter DOHC
1,271,550
1,211,000
1.5-liter DOHC
1,373,400
1,308,000
GX
1.5-liter DOHC
1,412,250*
1,345,000
LX
1.8-liter DOHC
1,569,750
1,495,000
VX
1,808,100
1,722,000
| | |
| --- | --- |
| - | In addition to the features mentioned above, standard equipment includes rear window wipers (intermittent system), a manually-controlled air conditioner, a keyless entry system (with answer-back function), power door locks (linked with the rear liftgate), an AM/FM radio with a digital clock, among others. |
| - | A separate recycling fee of 11,990 yen is necessary in addition to the manufacturer's suggested retail prices listed above (tax included). |
Manufacturer's suggested retail prices for the other Familia Van models (which have not undergone any changes)
Grade
Drive
Engine
Transmission
Price (yen)
With tax
Without tax
DX
FWD
1.5-liter DOHC
5-speed manual
1,281,000
1,220,000
4WD
1.8-liter DOHC
5-speed manual
1,495,200
1,424,000
4-speed automatic
1,573,950
1,499,000
XL
FWD
1.8-liter DOHC
compressed
natural gas
4-speed automatic
2,861,250
2,725,000