NEWS RELEASES
Strong Start to Mazda CX-7 Sales in Japan
- CX-7 orders achieve approximately five times the monthly sales target in the first month of sales -
HIROSHIMA,Japan—Mazda Motor Corporation has announced that as of January 19, 2007, total orders for the CX-7 in Japan reached approximately 1,800 units during the first month of sales since its domestic launch on December 19, 2006. This result is approximately five times the monthly target sales volume of 380 units, demonstrating a positive reception by Japanese consumers.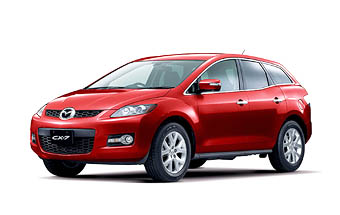 Mazda CX-7 "CX-7 Cruising package"

To date, nearly 60 percent of the orders are for the CX-7 grade, with over 40 percent of the orders for the CX-7 Cruising package grade. Brilliant Black has been the most popular body color selected by customers, followed by Moist Silver Metallic and the wine red Radiant Ebony Mica. The two most preferred factory installed options have been the utility package, which includes the Advanced Keyless Entry & Start System (a standard feature in the CX-7 Cruising package), chosen by roughly 60 percent of customers, and the nine-speaker Bose® Audiopilot surround sound system, selected by over 50 percent.

Although the CX-7 is targeted mainly at 30- to 50-year old males, orders have been placed by a diverse range of people. Customer feedback indicates that the main reasons for choosing the CX-7 are the advanced exterior design, the powerful performance of the 2.3L DISI turbo engine and the sporty interior styling.

Mazda's Executive Officer in charge of the Domestic Business Division, Shiro Mikami, said, "Sales of the CX-7 have been brisk at all of our dealerships and the number of visitors to our showrooms who come specifically to see the CX-7 is growing. In particular, sales in Tokyo, Osaka and Nagoya have been strong, which reflects the luxurious urban styling of the vehicle. We are pleased to see a robust start to CX-7 sales and Mazda will continue its efforts to boost domestic sales and strengthen the Mazda brand."

Mazda opened a temporary showroom - the Ginza Mazda CX-7 Showroom - on December 1, 2006 in Ginza, one of Tokyo's most fashionable and vibrant shopping districts, to raise awareness of Mazda's new CX-7. To date, over 11,000 people have visited the showroom, greatly exceeding Mazda's initial estimate of 5,000 which was forecast for the entire duration of the event (a two-month period scheduled to end January 31, 2007). The CX-7 exhibition space has also received very positive reviews, along with the design exhibition area that was created to give visitors a Zoom-Zoom experience and an opportunity to get to know the Mazda brand. In addition, a series of events that are being conducted in the showroom in cooperation with Japanese lifestyle magazines such as BRUTUS, Esquire Japan Edition, LEON, OCEANS, PEN, Safari and Straight, are proving to be a contributing factor behind the large number of visitors.