Mazda Hydrogen Rotary Now Street Legal
- Japanese ministry gives go-ahead for public road testing -
HIROSHIMA, October 27, 2004 - Today, Japan's transport authorities gave Mazda permission to road test a hydrogen-fueled, rotary-engine version of its RX-8 sports car. This unique vehicle features a dual-fuel system that allows the driver to select hydrogen or gasoline with the flick of a switch. In what could prove a historic event, this will be the world's first "street legal" dual-fuel hydrogen rotary.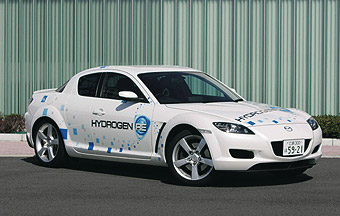 Mazda RX-8 hydrogen rotary engine vehicle
Permission from Japan's Ministry of Land Infrastructure and Transport (MLIT) comes 12 months after Mazda unveiled a hydrogen/rotary concept version of the award-winning RX-8 at the 2003 Tokyo Motor Show. Mazda's near-term goal is to assess the practicality of this unique powertrain in everyday use. In the next-stage, expected within two years, test vehicles will be leased to governments and fleet users.
Known as H2RE, the test vehicle will deliver good performance with no loss of interior space for four people--the high-pressure hydrogen fuel tank is mounted in the vehicle's trunk. The H2RE is powered by a modified version of Mazda's award-winning RENESIS rotary engine that features an electronically controlled hydrogen gas direct injection system on the rotor housing.
RENESIS has proved ideal for burning hydrogen as the intake area of a rotary engine stays relatively cool in temperature, reducing the tendency for engine backfire--a significant challenge in conventional engines. The hydrogen/rotary combination likewise offers superior environmental performance--zero emission of CO2 and near zero NOx emissions. And because existing parts and production facilities are used, the innovative engine can be built reliably at a relatively low cost.
More importantly, the hydrogen/gasoline dual fuel system will enable the H2RE to travel beyond the range of the few hydrogen filling stations now available. Mazda will continue to develop this technology for practical use and work to support the development of a hydrogen-fueled society.
Major specifications of "Mazda RX-8 Hydrogen Rotary Engine Vehicle"
- Base model
Mazda RX-8
- Base engine
13B Dual Fuel Hydrogen Rotary Engine
- Length
4.435m
- Width
1.770m
- Height
1.325m
- Wheelbase
2.7m
- Weight
1,440kg
- Passenger capacity
Four adults
- Fuel
Hydrogen or Gasoline
- Fuel tank
Hydrogen: 74L / 35MPa high-pressure tank
Gasoline: 61L
History of Mazda's hydrogen vehicle development
1991
Developed first hydrogen rotary engine vehicle, HR-X
1992
Test drive of golf cart equipped with fuel cell
1993
Developed second hydrogen rotary engine vehicle, HR-X2
Developed MX-5 test vehicle equipped with hydrogen rotary engine
1995
Conducted Japan's first public road test with Capella Cargo equipped with
hydrogen rotary engine
1997
Developed Demio FC-EV
2001
Developed Premacy FC-EV, conducted first public road test in Japan.
(Methanol Reforming)
2003
Announced RX-8 hydrogen rotary engine vehicle development
2004
Received MLIT approval for public road testing of the H2RE dual-fuel RX-8