Mazda Begins Production of Fourth 'New Generation' Product
- Fourth all-new model in 18 months will be named 'Mazda Axela' in Japan, 'Mazda3' in North America, Europe and other Key Markets -
Hofu City, Japan - Mazda Motor Corporation today began production of its next 'new generation' vehicle. The new product - to be named "Mazda Axela" in the Japanese market and Mazda3 in all other global markets - is the fourth all-new Mazda developed under the company's DNA-focused product creation system and will follow closely the success of the Mazda6 (known as the Atenza in Japan), Mazda2 (Demio) and Mazda RX-8. The newest Mazda will be officially launched at the 60th Frankfurt Motor Show in early September 2003.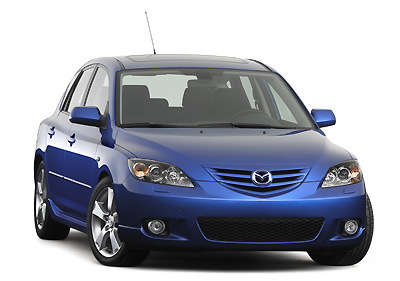 Mazda's next 'new generation' vehicle 'Mazda3'
The newest Mazda is designed to blur the lines of conventional vehicle segmentation, offering traditional C-segment customers more in terms of design, craftsmanship and interior packaging, as well as a dynamic driving experience often associated with European-built vehicles. Recent Mazda products, developed and built using these same priorities, have helped the company achieve critical product acclaim from customers and media, including more than 50 international awards for the Mazda6/Atenza and the "2003 International Engine of the Year" award for the RENESIS rotary engine in the new Mazda RX-8.
To mark the start of production, a ceremony was held at Mazda's Hofu Plant in the Yamaguchi Prefecture of Japan. The official Job #1 vehicle, a European-specification, five-door, hatchback in Winning Blue, was greeted off the line by union representatives, Mazda employees and key company directors, including Hisakazu Imaki, Executive Vice President, Chief Engineering & Manufacturing Officer.
The newest Mazda embodies the design direction presented in the Mazda MX Sportif concept, which was showcased at the Geneva International Motor Show in March 2003. The strong Mazda brand DNA - stylish, insightful and spirited - can be found throughout the vehicle. Key development targets for new Mazda3 included:
| | |
| --- | --- |
| - | A prominent and well-defined Mazda design based on distinct, muscular proportions and dynamic athleticism |
| - | Mazda's highest levels of craftsmanship and quality to ensure high value for customers |
| - | Superbly balanced vehicle dynamics able to deliver class-leading Mazda driving pleasure that is often associated with European cars |
| - | Optimal interior space and innovative packing solutions to maximize usability |
Additional product detail, including information pertaining to body styles, packages, powertrains and pricing of the new Mazda3, will be officially announced during the Frankfurt Auto Show. The vehicle will go on sale in Europe in the fall and will be introduced into key markets through the fourth quarter of calendar year 2003 and into the first quarter of 2004.
In the critical Japanese market, where the vehicle will see an autumn debut, the name Axela was developed by combining the English words "accelerate" and "excellent." This name was created to communicate the youthful exhilaration of fun driving - acceleration - with infinite possibilities, as represented in "X."