Mazda Atenza Wins 23 Awards around the Globe
Mazda Motor Corporation's new mid-size Atenza (known as the Mazda6 in overseas markets) has been honored with a total of twenty three awards in 16 countries and regions around the world since it was launched in May 2002. The global recognition and awards achieved during the first seven months since launch make Atenza one of the most successful new-car in Mazda's 82-year history.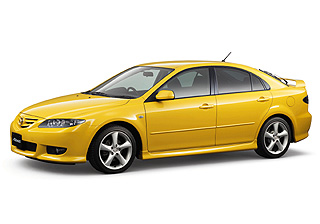 Mazda Ateza/Mazda6 (SPORT)
In December 2002, Atenza received nine awards both in its home market and abroad, including the "Japan Car Design Award Golden Marker Trophy (commercial production)" and, in North America, a place among Car and Driver magazine's "2003 10Best." The "Japan Car Design Award Golden Marker Trophy" is a commercial production design award hosted by Car Styling magazine. The Atenza Sport hatchback outclassed a field of 29 new vehicles launched in 2002 to receive the award.
The annual "10Best" is presented by Car and Driver, an influential automotive magazine from North America. Established in 1983, the award is now in its twenty-first year. Each year, nominees include all-new vehicles sold in the United States, those that have been significantly upgraded and the previous year's winners. The 2003 "10Best" list was published in the January edition of the magazine. Forty-one models were nominated as candidates for this year's list. After one week of extensive testing, a V6-powered Mazda6 was chosen as one of the "10Best" cars based on voting by the magazine's editorial team.
Mazda's new Atenza is gaining an excellent reputation worldwide for its superb handling, functionality and distinctive styling. This is reflected in healthy sales figures for both the domestic Japanese market and overseas markets. In Japan, cumulative registrations from the vehicle's launch on May 20 through Nov. 30 reached 18,725 units. Moreover, cumulative overseas exports from March through the end of Nov. stand at 75,928 units.

[Atenza/Mazda6: Award Winning Status]
Award

Country/Region
Date Announced
1) 2002 Good Design Award (G mark)
Japan

Oct.1
2)'02-'03 Japan Car of the Year: 10 Best
Japan
Nov.1
3)Hall of Fame: Excellent Developer Award
Japan
Nov.6
4)2003 RJC Car of the Year
Japan
Nov.20

5)
Japan Car Design Award: Golden Marker Trophy
(commercial production)

Japan
*
6)Car & Driver: The 2003 10 Best
U.S.A
Dec.11
7)Fleet World Magazine: Best Newcomer Award
U.K
Jun.2
8)Britain's Auto 1: Car of The Year
U.K
Dec.17
9)Great Austrian Automobile Award
Austria
Oct.7
10)New Car of the Year
Scotland
Oct.26
11)Semperit Irish Car of the Year
Ireland

Nov.22
12)Car of 2003 in Czech Republic
Czech Republic

Nov.11
13)Family Car of the Year
Sweden
Nov.11

| | |
| --- | --- |
| 14) | European Car of the Year: 2nd place(highest placed Japanese car) |

Europe
Nov.19
15)Auto Blic magazine: Croatian Auto 1.
Croatia
Dec.11
16)Best Car in Lithuania in 2003
Lithuania
Dec.16
17)Le Moniteur Automobile: Family Car of the Year
Belgium
Dec.19
18)National Business Review (weekly newspaper): Car of the year
New Zealand
Oct.18

19)
New Zealand Company Vehicle and Executive Car Magazine:
Business Car of the Year

New Zealand
Dec.9
20)Australia's Best Car Awards: Best Mid-Size Car Over $25,000
Australia

Nov.6
21)The Straits Times: Best Medium Family Sedan/Hatchback
Singapore
Oct.19
22)Auto magazine: Car of The Year (chosen by readers)
Israel

*
23)Auto magazine: Best Premium Compact
Israel
*
*Announced in the January 2003 issue.